A celebration of Rihanna at basketball games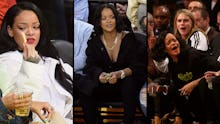 Question: If you were to ever attend a basketball game, who would you want to sit by?
Lots of seemingly fun people may come to mind. Beyoncé. Jack Nicholson. Barack Obama. Michelle Obama. But actually, we think the one person who would be most inspiring to sit by, and the most rewarding, is Rihanna.
She's had a long history of being one of the funnest people to sit by at awards shows, like at the Grammys when she shamelessly sipped from a flask and then offered some to a neighbor. But it's actually at basketball games when her talent for not giving a single shit truly shines.
That was made most obvious on Thursday night, when Rihanna attended Game One of the 2017 NBA Finals.
For starters, she dabbed during the game.
She screamed "Brick!" when the Golden State Warriors' Kevin Durant went to shoot the ball.
After the game, she was recorded saying, "It doesn't matter, bitch" into the locker room of the Cleveland Cavaliers, who just lost the game.
And if that's not an inspiring statement, what is?
Also, she arrived looking like this:
A Renaissance painting come to life, intimidating any man who dares to sit next to her.
Basketball game fashion has been a thing for a while now for smart women like Beyoncé and, hey, even Kate Middleton. But what Rihanna's done for the past few years now at games is, well, it's beautiful.
Want a few examples? Here she is being looking extremely angelic and eating french fries at a Lakers game in 2016.
Here she is wearing a frankly amazing Canadian tuxedo at an NBA All-Star game in 2015.
Here she is wearing a shirt that reads "Spoiled" in Swarovski crystals at a game during All Star Weekend in Brooklyn in 2015.
Here she is again looking like a Renaissance painting at a Cavaliers game, dressed in basically a raincoat.
Like, how is she wearing the same outfit we wore to summer camp in 2002 and making it look so good?
Moving on, how can she look this good at a basketball game in an XXXL sweatshirt and short shorts?
(We're that guy in the back.)
And how can she pull of looking like Tinkerbell at a basketball game?
She knows she's doing it, too.
How is this possible?
And it's not like she's just there to show off either. She's extremely passionate about the game, as seen in this picture below.
So obviously, if you feel like going to a basketball game and having the funnest night of your life, Rihanna's your girl.