Bill Maher's use of racial slur on 'Real Time' draws intense criticism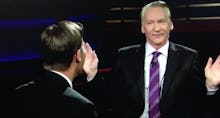 During Friday night's Real Time With Bill Maher, host and comedian Bill Maher used a racial slur while speaking with Republican Sen. Ben Sasse of Nebraska.
After Sasse said he'd love for Maher to come "work in the fields" with him in his home state, Maher feigned offense, threw his hands up and responded, "The fields? Senator, I'm a house nigga."
The line drew some groans and scattered applause from those in the audience.
The reaction on social media, however, was intensely negative, with some calling for Maher to be fired.
"But really, Bill Maher has got to go," activist DeRay Mckesson wrote on Twitter. "There are no explanations that make this acceptable."
Many people were not surprised with Maher's unapologetic use of the slur, given his history of racist and Islamophobic comments toward the Arab world and Muslims, which Salon has even called "beyond the pale."
"I can't believe Bill Maher said something racist, said no Muslim ever," Muslim scholar Reza Aslan tweeted.
After the show aired, Sasse tweeted a series of reflections on his interaction with Maher, including a defense of Maher's First Amendment rights and a mea culpa for not speaking up when Maher used a slur.
"Here's what I wish I'd been quick enough to say in the moment," Sasse wrote. "'Hold up, why do you think it's OK to use that word? The history of the N-word is an attack on universal human dignity. It's therefore an attack on the human creed. Don't use it."
Maher has a history of championing free speech on his show. In February, he garnered headlines when he invited right-wing provocateur Milo Yiannopoulos onto Real Time. During the interview, the two derided PC culture on college campuses as Maher lobbed softball questions at the former Breitbart editor, including when Yiannopoulos defended his characterization of Saturday Night Live comedian Leslie Jones as "illiterate."
For those wondering whether Maher will be confronted about the slur face-to-face, look no further than his upcoming guest.
As the feathers flew on Twitter, former Bernie Sanders staff member Symone Sanders, who has become an outspoken pundit on CNN, tweeted that she joins Maher in his studio next week.
In a statement from HBO's executive vice president of corporate communications, HBO said Maher's comment was "completely inexcusable and tasteless."
"We are removing his deeply offensive comment from any subsequent airings of the show," the statement said.
Jun. 3, 2017, 1:21 p.m.: This story has been updated.