Ariana Grande visited Manchester attack survivors in the hospital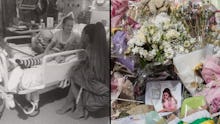 Ariana Grande on Friday night surprised fans injured at the terrorist attack that occurred during her show May 22 at Manchester Arena in England by visiting them in the hospital.
"It was unbelievable," Lauren Thorpe told CNN. Thorpe's 8-year-old daughter Lily was wounded by shrapnel in her back during the attack. She's currently in recovery. Thorpe said Grande brought everyone a sunflower and a teddy bear.
Lauren shared a photo of Grande meeting her daughter on Twitter.
"Lily's face lit up and Ariana was amazing with her," Thorpe said. "She knelt by her and sat on her bed with her and told her, 'I'm so proud of you, you are so strong and doing really well.'"
Grande shared a photo on Instagram with one of the children, using a heart as a caption.
She visited 10-year-old Jaden Farrell Mann, who tweeted she got to "meet my queen today."
She also visited Evie Mills, who tweeted "I love you," at the pop star.
The family of Martyn Hett, whose friends have created a T-shirt to honor his memory, said they have "endless respect" for Grande. Another fan said he'd "never forget" her visit.
Twenty-two people died during the Manchester attack. Grande suspended her world tour as a result.
On Sunday night, Grande will perform a benefit concert — along with Justin Bieber, Coldplay, Katy Perry and more — in Manchester. Proceeds will go to the We Love Manchester Emergency Fund, according to CNN. The concert will air live on Freeform, and a highlights special will air on ABC.