French President Emmanuel Macron is Donald Trump's newest and biggest troll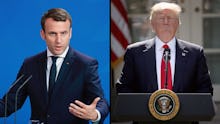 In a new parody video, the French government says "au countraire" to facts put out by the White House in a cartoon about the Paris accord.
On Friday, French officials released a video that re-edited a previous 40-second video put out by the Trump administration that denigrated the Paris climate change agreement.
"We've seen the White House video about the Paris accord," the tweet accompanying the video reads. "We disagree — so we've changed it."
The video takes the original video posted to the White House's YouTube account, called "The Paris accord is a bad deal for America," and crosses out or corrects many of the statements to reflect the work that world leaders, including former President Barack Obama, put into it.
For example, whereas the original video purports that the deal undermines U.S. competitiveness and jobs, the edited video points out that even big business — including Exxon Mobil and Microsoft — were fans of the agreement.
The video is the latest in a string of incidents that show that the French government — and its new head, Emmanuel Macron — are trollers-in-chief when it comes to Trump.
After Trump announced that the United States would withdraw from the Paris accord, Macron tweeted out an image that turned Trump's infamous campaign slogan, "Make America Great Again," on its head.
"Make Our Planet Great Again," the image reads.
And, unlike several other leaders who were sucked into the gravitational vortex known as the Trump handshake, Macron white-knucked Trump with his own grab.
Look out for Macron's next power move — his tenure, like Trump's, has only just begun.