President Trump could still block James Comey from testifying before the Senate. Will he?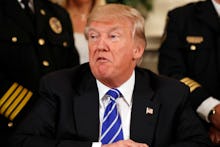 Former FBI Director James Comey is due to testify before the Senate Thursday — apparently without President Donald Trump trying to stop him, the New York Times reported.
Trump has reportedly been considering invoking executive privilege to block Comey, whom he fired in May, from speaking to the Senate Intelligence Committee about the bureau's investigation into the president's possible ties to Russia.
But two administration sources told the Times that he will likely allow Comey to go ahead with his testimony without an attempted challenge. According to one of the sources, Trump wants Comey to testify because he has "nothing to hide and wanted Mr. Comey's statements to be publicly aired."
Still, the Times noted that Trump can be unpredictable and prone to changing his mind — so there remains a possibility that the president will take a stab at keeping the former FBI director from testifying.
Here's how he could try to do that.
What is "executive privilege?"
Executive privilege gives a president the right to keep information from Congress by claiming it could negatively impact national security or hinder important private conversations within the administration.
Trump can attempt to invoke it to keep Comey from discussing their conversations with Congress, and administration officials Friday had suggested it was a legal tool the president may try to use.
However, it could be a difficult claim for Trump to make. Presidents Richard Nixon and Bill Clinton each tried and failed to invoke executive privilege, according to CNN legal analyst Page Pate, and an attempt by former President Barack Obama during the so-called "Fast and Furious" probe resulted in only some documents being blocked from Congress.
Trump would likely have an even tougher time invoking executive privilege, given that he has publicly discussed his relationship and interactions with Comey on a number of occasions, including in his letter announcing he'd terminated the FBI director.
"While I greatly appreciate you informing me, on three separate occasions, that I am not under investigation," Trump wrote, "I nevertheless concur with the Department of Justice that you are not able to effectively lead the Bureau."
Later, during an NBC News interview with Lester Holt, Trump repeated that he had asked Comey — once over dinner and twice by phone — if he was under investigation, and that Comey said he was not.
"I said, if it's possible would you let me know, am I under investigation?," Trump said. "He said, 'You are not under investigation.'"
In that same interview, Trump called Comey a "showboat" and said it was his decision to fire the FBI director.
According to Pate, Trump can still try to invoke executive privilege. But Comey, now a private citizen, no longer has to listen to him, and it's unlikely a court would prevent him from testifying.
"[The White House] is extremely concerned about what Comey is going to say, and it makes sense to use every trick in the book to try and stop him from publicly humiliating the president," Pate wrote."