Bill Maher apologizes for dropping racial slur in Sasse interview on 'Real Time'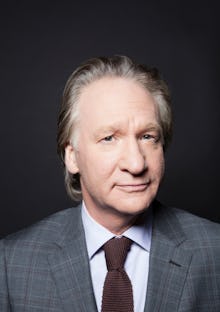 Bill Maher says he is "sorry" for saying that he is a "house nigga" during an interview with Nebraska Sen. Ben Sasse on Real Time Friday night.
"Friday nights are always my worst night of sleep because I'm up reflecting on the things I should or shouldn't have said on my live show," Maher said in a statement. "Last night was a particularly long night, as I regret the word I used in the banter of a live moment. The word was offensive and I regret saying it and I am very sorry."
Maher made the comment after Sasse, a Republican, suggested he come "work in the fields" with him in his home state.
"The fields?" Maher said. "Senator, I'm a house nigga."
While Sasse and the live audience laughed at the remark, the "joke" ignited an online firestorm that included calls for Maher to be canned.
HBO said in a statement that Maher's use of the racial slur was "completely inexcusable and tasteless" and that the network would remove the comment from future broadcasts of the episode.
Sasse, in a series of tweets, defended Maher's right to free speech but said that "just cringing last night wasn't good enough" and that he wished he had pushed back against the comment.
Maher is not known for apologizing. In fact, in a January 2017 "New Rules" segment, the comedian said that liberals should "stop apologizing" and that political correctness cost Democrats the 2016 election.
"Democrats have gone from the party that protects people to the party that protects feelings," Maher said in January. "Stop protecting your virgin ears and start noticing you're getting fucked in the ass."