June 3 Google Doodle honors civil rights hero, entertainer Josephine Baker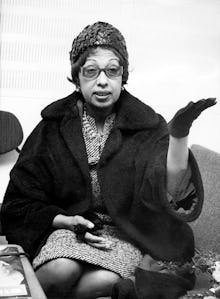 Saturday's Google Doodle honored Josephine Baker, the famous black entertainer and later civil rights activist, on what would be her 111th birthday.
Born on June 3, 1906, in the city of St. Louis, Baker rose from poverty and obscurity to become an international sensation and one of the highest paid performers in Europe. A symbol of the Jazz Age and the 1920s, Baker earned fame as a cabaret performer and singer and spent years in Paris, where she aided the French resistance against Nazi Germany during World War II as a spy and troop entertainer.
In 1934, Baker became the first African-American woman to star in a major film production with her role in Zouzou. 
As Al Jazeera noted, Baker was consistently smeared by the U.S. press on racial grounds and became a civil rights hero in part as a result of her refusal to perform for segregated audiences. Baker adopted 12 children of different races and ethnicities to prove they "could still be brothers." She prominently collaborated with the NAACP.
After Martin Luther King, Jr. was assassinated in 1968, his widow Coretta Scott King reportedly asked Baker to take on leadership of the movement, but she declined, saying her children were too young to lose their mother.