Live updates: 7 people killed in terror attack at London Bridge and Borough Market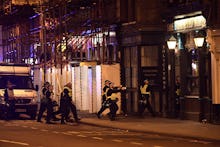 Police say seven people are dead and more than 40 are injured after a terror attack Saturday on London Bridge and at Borough Market, BBC reported. Three suspects were also shot and killed, police said.
The U.K. remains on high alert after a suicide bombing at an Ariana Grande concert in the city of Manchester last month, killing 22 people and wounding many more. This is the third suspected terror attack in the country since March, Guardian reported. In March, four people were killed in an attack outside the Houses of Parliament. 
Mic's live coverage follows below.
11:31 a.m. Eastern: We are signing off. Follow Mic's ongoing coverage of the London attacks at Mic.com.
11:15 a.m. Eastern: Islamic State reportedly called for vehicle, knife attacks on civilians
The U.K.'s Telegraph newspaper reported that an Islamic State outlet called on jihadists to use vehicles and knives to attack civilians hours before the London terror attacks Saturday night.
According to the Telegraph, a message was sent out via an encrypted app encouraging jihadists to "kill the civilians of the Crusaders" and to "run over them by vehicles." The message suggested that attacks be carried out during Ramadan, which runs through June 24. 
The Islamic State had called for an "all-out war" on the West during the holy month, which began on May 26, but no group has yet claimed responsibility for Saturday's attack.
10:24 a.m. Eastern: Pope Francis prays for attack victims 
During a Sunday Mass in Vatican City, Pope Francis offered prayers for the victims of Saturday night's terror attack.
"May the Holy Spirit grant peace to the whole world," he said. "May He heal the wounds of war and of terrorism, which even this [Saturday] night, in London, struck innocent civilians: let us pray for the victims and their families."
Read additional reactions from world leaders here. 
8:38 a.m. Eastern: Trump criticizes London mayor in tweet 
President Donald Trump went after London Mayor Sadiq Khan in a Sunday morning tweet, saying "At least seven dead and 48 wounded in terror attack and mayor of London says there is 'no reason to be alarmed!'" The president also tweeted "we must stop being politically correct and get down to the business of security for our people."
Trump appears to be referencing a statement Kahn made on BBC regarding police presence in the city. He said, "Londoners will see an increased police presence today and over the course of the next few days. No reason to be alarmed."
In another statement, Khan said he condemned the attack "in the strongest possible terms." He also urged residents "to remain calm and vigilant," adding "we will never let these cowards win and will never be cowed by terrorism."
8:04 a.m. Eastern: Death toll rises to 7; police make 12 arrests
Metropolitan Police said they've confirmed seven people died in the London attack and 48 people were injured. According to BBC, four officers were injured.
Police also announced that 12 people were arrested in east London in connection to Saturday's attack and that "searches of a number of addresses in Barking are continuing."
1:41 a.m. Eastern: 48 people injured, London Ambulance Service says
The number of people taken to hospitals in London has risen to 48, London Ambulance Service announced. 
A statement added that crews were called to the incident at 10:07 p.m. local time, and the first ambulance crew arrived within six minutes. 
11:57 p.m. Eastern: At least 30 people taken to hospitals in London
London Ambulance Service said more than 30 patients have been taken to five hospitals in London, updating an earlier statement.
Police announced an on-duty British Transport Police officer was among those injured in the attack and "received serious but not life-threatening injuries."  
11:48 p.m. Eastern: Police says suspects wore hoax explosive vests
Metropolitan Police said the suspects in the attack "were wearing what looked like explosive vests but these were later established to be hoaxes." Officers shot and killed the three men in Borough Market, according to a statement. 
In a photo from Borough Market, one of the suspects appears to be lying on the ground with canisters strapped to his body.
11:33 p.m. Eastern: World leaders respond to London attack
French President Emmanuel Macron, Canadian Prime Minister Justin Trudeau and Australia Foreign Minister Julie Bishop have released statements following the attack on London Bridge and at Borough Market.
The White House said President Donald Trump spoke with Prime Minister Theresa May and "offered his condolences for the brutal terror attacks," Guardian reported.
As details of the attack emerged earlier Saturday, Trump tweeted that the U.S. needs a "travel ban as an extra level of safety."
11:09 p.m. Eastern: Police say six people are dead, 20 injured
Police announced that six people are dead and 20 are injured after the terror attack in London, the BBC reported. Three suspects, all male, were also shot and killed, police said.
10:04 p.m. Eastern: U.S. State Department condemns attack
In a statement, the State Department said the "United States condemns the cowardly attacks targeting innocent civilians in London this evening."
"Our hearts are with the families and loved ones of the victims," the statement said. "We wish a full and quick recovery to those injured in the attacks. All Americans stand in solidarity with the people of the United Kingdom."
9:52 p.m. Eastern: London Ambulance says "at least 20 patients" taken to hospitals 
London Ambulance tweeted a statement that it has taken "at least 20 patients to six hospitals across London following the incident at London Bridge." The statement also said others were treated at the scene "for less serious injuries."
9:49 p.m. Eastern: Police confirm controlled explosions, editor says
An editor for The Sun, James Cox, tweeted that police confirmed explosions heard earlier in the London Bridge area "are controlled and police monitored."
9:35 p.m. Eastern: Metropolitan Police release timeline of incidents
Police released a summary of the incidents on London Bridge and Borough Market. The statement says "officers responded to reports of a vehicle in collision with pedestrians on London Bridge" at 10:08 p.m. local time. Police then responded to reports of stabbings in nearby Borough Market. Both incidents were declared "terrorist incidents" at 12:25 a.m. local time.
In the statement, police again said a stabbing in Vauxhall is not believed to be connected. Police did not confirm the number of casualties. 
9:03 p.m. Eastern: London mayor releases statement 
London Mayor Sadiq Khan called the attack in the city "deliberate and cowardly." Khan added that the "situation is still unfolding" and said not all details are yet known. He called for residents and visitors to "remain calm and vigilant." The mayor said he will attend Sunday morning's emergency COBRA meeting.
8:46 p.m. Eastern: Eyewitness account says armed officers fired on at least two armed suspects
A chef from Fish restaurant told the Guardian that unarmed community police had run away from the attackers before armed officers arrived.
"They were stabbing people," they said. "The police were running away. They were community police. They were normal officers. They were running away."
"The guy with the knife was killing two people," the chef added. "We were shouting 'stop, stop' and people threw chairs at them. ... Police came and shot straight away."
According to the Sun, at least three explosions were heard near its offices, though they may have been controlled explosions by police — indicating they may have been destroying suspected bombs. Authorities often use controlled explosions out of an abundance of caution, so the blasts do not necessarily mean the attackers were using explosives.
8:10 p.m. Eastern: Metropolitan Police confirm London Bridge and Borough Market incidents were "terrorist" acts; Vauxhall stabbing unrelated
The Metropolitan Police tweeted it is now considering the two incidents at London Bridge and a nearby market "terrorist incidents." A third scene, a stabbing in the residential neighborhood of Vauxhall, appeared to be unrelated, it said.
7:44 p.m. Eastern: P.M. Theresa May releases statement
Prime Minister Theresa May released a statement saying the "terrible incident" in London is being treated as a "potential act of terrorism," the Guardian reported.
Per BBC, May will "chair the government's emergency committee COBRA on Sunday morning."
7:37 p.m. Eastern: President Donald Trump touts travel ban on Twitter
7:33 p.m. Eastern: Witnesses say at least three attackers went on stabbing spree near bridge
A security guard told BBC he was at the Market Porter pub, next to Borough Market, when a colleague relayed reports of stabbings at the nearby Borough Bistro. He says he subsequently witnessed three attackers stab at least four people, including a woman in her early 20s.
A married couple, Natalie and Ben, said they saw a man with "quite a large blade ... maybe 10 inches. He was stabbing a man ... about three times fairly calmly."
"It looked the man had maybe been trying to intervene, but there wasn't much that he could do," Ben added. "He was being stabbed quite coldly and he slumped to the ground."
The couple fled the area when gunshots rang out.
7:23 p.m. Eastern: Police have confirmed "more than one fatality" at London Bridge
According to BBC, police manning a cordon at the south side of London Bridge have confirmed multiple deaths in relation to the incident.
Multiple news agencies have confirmed reports of knife-wielding attackers at nearby Borough Market thereafter, but authorities have not released detailed information about the alleged incident.
6:58 p.m. Eastern: Authorities confirm shots fired, third incident in Vauxhall
The Metropolitan Police confirmed that at approximately 10:08 p.m. local time "officers responded to reports of a vehicle in collision with pedestrians on London Bridge. Officers have also responded to reports of stabbings in #BoroughMarket. Armed officers responded and shots have been fired."
The agency additionally tweeted a third incident has been reported in the Vauxhall neighborhood of South London, some 20 minutes away by car.
6:49 p.m. Eastern: BBC confirms reports of stabbings in area of London Bridge after van collided with pedestrians
According to BBC, one of its journalists on the scene has confirmed reports of stabbings in relation to the incident.
Twenty-five-year-old Will Orton, who was at a nearby pub, told BBC "lots of people came running inside. We didn't really know what was going on. ... There were almost hundreds of people coming inside."
"There was panic — it seemed like it was literally outside the door. People were coming inside and saying they had witnessed people being stabbed. It seemed like it was happening immediately outside the entrance."
6:40 p.m. Eastern: London Underground closures are under way
According to the Associated Press, authorities have closed three London Underground stations in close proximity to the bridge.
The AP reported a witness told broadcaster Sky News he saw "people who seemed to have been run over and people being placed in an ambulance covered in blankets."
Prime Minister Theresa May is being briefed on the incident, the AP tweeted.
6:24 p.m. Eastern: Metropolitan police say another incident reported at Borough Market
6:14 p.m. Eastern: Metropolitan police urge calm, say they will only release "accurate" information
This is a breaking news story and may be updated as more information becomes available.
Ashley Edwards and Stephanie Clary contributed additional reporting to this article.