How world leaders are responding to the London Bridge terror attacks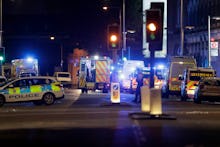 The United Kingdom is reeling after a series of terrorist attacks Saturday evening. Authorities say a van drove into pedestrians on the London Bridge, and armed attackers stabbed several people at Borough Market.
President Donald Trump responded to the attacks by doubling down on his call for a travel ban. "We need to be smart, vigilant and tough. We need the courts to give us back our rights. We need the Travel Ban as an extra level of safety!" Trump tweeted. "Whatever the United States can do to help out in London and the U. K., we will be there — WE ARE WITH YOU. GOD BLESS!"
Here is how other world leaders are reacting to the latest act of terror in the U.K.
British Prime Theresa May
"Following updates from police and security officials, I can confirm that the terrible incident in London is being treated as a potential act of terrorism," May said in a statement. "This is a fast-moving investigation. I want to express my huge gratitude to the police and emergency services who are on the scene. Our thoughts are with those who are caught up in these dreadful events."
French President Emmanuel Macron
"In the face of this new tragedy, France is more than ever at the side of the United Kingdom. My thoughts go to the victims and their loved ones."
Canada Prime Minister Justin Trudeau
Australia Foreign Minister Julie Bishop
"We stand ready to support the British government as it responds to these attacks, and our thoughts are with those injured and their families," Bishop said in a statement, according to the Associated Press.
German Chancellor Angela Merkel
"Today, we are united across all borders in horror and sadness, but equally in determination," Merkel said in a Sunday statement, according Reuters. "I stress for Germany: in the fight against all forms of terrorism, we stand firmly and decisively at Britain's side."
This post will be updated.