Rihanna's 'Good Girl Gone Bad' transformed her into the mega-star she'd eventually become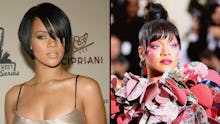 Rihanna reintroduced herself to the music world with the release of "Umbrella" in March 2007 and, one month later, its accompanying video.
The video opens with Rihanna, face away from camera, dressed in a sleek black jumpsuit, backlit by a bright light, shrouded in fog. She turns her face to the camera as if to reintroduce herself to those who may not recognize the girl with the sleek, asymmetrical bob. This, she seemed to say, is the new Rihanna.
The song, a deceptively simple rumination on companionship, also teased new limits for sexual suggestion from the pop star — "It's pouring rain, come into me/ come into me," she croons as the song closes. The irresistible, syncopated beat was taken from GarageBand: Vintage Funk Kit 03.
"Umbrella" served as an appetizer for her third album, Good Girl Gone Bad, which turned 10 years old on Monday. Its title alone underscored what Rihanna's new era meant. They're four words that emphasize transition, transformation and agency. The album, its sound and its visuals all turned her into a full-fledged cultural phenomenon. Its singles kept her afloat on pop radio for two years straight as cut after cut climbed the Billboard Hot 100.
With a No. 1 single (2006's "SOS") and two McAlbums (2005's Music of the Sun and 2006's A Girl Like Me, released only ten months apart) in her rearview, the singer broke out of her previous, naïveté-laced persona and adopted a chicer, fashion-forward look and a new sound that largely reworked the Caribbean pop sounds of her early songs ("Pon de Replay," "Break It Off") and fused island jams with R&B beats.
By the end of the "Umbrella" video, she debuted no less than four stunning looks and an iconic new hairstyle that began to spread through every high school hallway. As she stomps her way through a choreographed dance in the rain, she similarly evokes and subverts Gene Kelly's infamous Singin' in the Rain scene by centering on a black woman crooning about her own ability both to swoon for and protect her loved one.
If "Umbrella" was a promise, then the remaining string of hits was the fulfillment. Whereas her first two albums each had one bona fide smash and enjoyed only a few months of relevance, GGGB unleashed an onslaught on the charts. A techno-funk vibe imbued the album and minted hits rather than chased what was on the radio. Between the original release and its 2008 re-release, Good Girl Gone Bad: Reloaded, Rihanna racked up seven chart successes: "Umbrella" (No. 1), "Shut Up and Drive" (No. 15), "Hate That I Love You" (No. 7), "Don't Stop the Music" (No. 3), "Take a Bow" (No. 1), "Disturbia" (No. 1) and "Rehab" (No. 18). An eighth, "If I Never See Your Face Again," was a Maroon 5 record featuring Rihanna that was also featured on GGGB:R.
Even GGGB's deep cuts could have made for a just-as-successful slate of radio-ready singles. "Push Up On Me" is a sexually suggestive come-hither tune that would've lit up any dance floor or "Song of Summer" debate. "Breakin' Dishes," one of Rihanna's all-time best creations, is a fiery break-up bop that has her dousing her cheating beau's clothes in bleach before setting them on fire and breaking out some marshmallows to roast, while threatening, "I don't know who you think I am/ but I don't really give a damn right now."
"Say It," "Sell Me Candy," and "Lemme Get That" are fun, flirty mid-album anthems that evoke summer nights, young love, grinding on a new crush and double-dutching at the foot of your stoop. "Question Existing," a dirty bass slow burn, has Rihanna reading diary entries about the price of fame to her non-famous persona, Robyn Fenty. All of these songs combined showcase a singer who is, to evoke Britney Spears, not a girl, not yet a woman.
More than just acting as a hit factory, this era saw Rihanna embrace a new identity. In 2007, Rihanna tried on her "Bad Gal Riri" persona like a new pair of thigh-high boots in need of being worn in. This shift allowed Rihanna to compete in a changing musical landscape that was dominated by distinct personalities. The mid-2000s gave us landmark statement albums like Gwen Stefani's Love. Angel. Music. Baby. and Fergie7;s The Dutchess. Rihanna never went the cartoonish route that Fergie and Stefani tracked (and which Lady Gaga and Nicki Minaj followed a few years later), but her bad-gal persona rang authentic. Rather than quirk, Rihanna embraced DGAF realness, an attitude that continued in subsequent albums like 2009's Rated R and 2010's Loud, all the way through 2016's Anti.
Compared to the raw and moody Anti, GGGB might seem naive and a little too polished, but it contains saplings that would flower later in Rihanna's career. GGGB remade her as a fashion icon and a brand. And, like the mega-smash "Work," GGGB saw Rihanna experiment with sounds that fused her Bajan origins with R&B and funk sans the awkward corniness — the "di di di di da da dey" pre-chrous of "If It's Lovin' That You Want" comes to mind — that marred her first two albums. Songs like "Disturbia" and "Question Existing" show that Rihanna was not afraid to embrace a sort of darkness that her later albums, especially Rated R and Anti, would wholly embrace.
Rihanna closes the album with its titular track, which contains a warning to those listening:
Easy for a good girl to go bad
And once we're gone
Best believe we're gone forever
Luckily for us, Rihanna followed through on her threat. Good Girl Gone Bad was not so much a destination, but a bombastic ode to the journey there. Every hero needs her origin story, and GGGB acts as Rihanna's. It celebrates the exciting and exhausting process of becoming someone new.
Read another way, the closing track's lyrics are a pledge that Rihanna will continue to evolve and challenge our assumptions about her. And if we learned anything from "Umbrella," it's that when Rihanna takes an oath, she's gonna stick it out 'til the end.
Mic has ongoing music coverage. Follow our main music hub here.