Donald Trump uses out-of-context quote to berate London Mayor Sadiq Khan following terrorist attack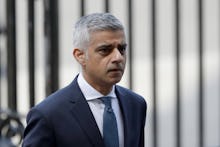 Following a deadly terror attack in London Saturday night, where at least seven people were killed and dozens injured, President Donald Trump is taking aim at the city's mayor, Sadiq Khan, and political correctness.
"We must stop being politically correct and get down to the business of security for our people. If we don't get smart it will only get worse," Trump tweeted Sunday morning.
"At least seven dead and 48 wounded in terror attack and mayor of London says there is "no reason to be alarmed!" he added.
However, Trump's take on Khan's statement is wildly out of context. In a press conference, Khan said, "Londoners will see an increased police presence today [Sunday] and over the course of the next few days. No reason to be alarmed."
In a video statement posted to Twitter, Khan strongly condemned the attacks and also told Londoners "to remain calm and vigilant."
"I'm appalled and furious that these twisted and cowardly terrorists deliberately targeted innocent Londoners and visitors to our city, who were just enjoying their Saturday night," Khan said in the video. "I condemn these terrorists in the strongest possible terms."
This is not the first time Trump or one of his family members went after Khan, London's first Muslim mayor, following a terrorist attack. In March, following the attack on Westminster Bridge, Donald Trump Jr., used an out-of-context quote of Khan's to mock him on Twitter, the Daily Beast reported at the time.
"Part and parcel of living in a great global city is that you have got to be prepared for these things. You've got to be vigilant. You've got to support the police who do an incredibly hard job," Khan said in an interview following the bombing in the Chelsea neighborhood of Manhattan in 2016. "You've got to support the security services, and I think speculating when don't know the facts is unwise."
Three suspects were shot dead following Saturday's attack in London, and at least 12 arrests have been made.