London Terror Attack: What's real and what's fake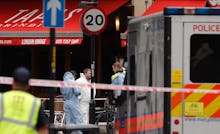 The United Kingdom is reeling from its third terrorist attack in as many months: Seven people are dead and 48 more are injured in London, after a group of three masked men mowed down pedestrians on the London Bridge around 10 p.m. local time on Saturday night.
From there, the suspects leapt out of their van and made their way to the nearby Borough Market, where they began indiscriminately stabbing patrons at bars and restaurants until police shot them dead. According to CNN, the attack lasted roughly eight minutes, but left many of the wounded with life-threatening injuries.
The attack follows closely on the heels of a suicide bombing at an Ariana Grande concert in Manchester, England, on May 22. That attack, for which ISIS later took credit, killed 22 people and wounded nearly 60 more. In March, a knife-wielding man drove into pedestrians walking on the Westminster Bridge before plowing into the gates of Parliament, killing two civilians and a police officer.
Saturday's attack inspired fear, pandemonium and, unsurprisingly, a few false reports. We've rounded up what's real and what's not in the wake of Saturday's London terror attack.
What's real
According to CNN, the area surrounding the attack sites has been cordoned off, while police have arrested 12 people during raids in Barking, East London.
The attackers, whose names have not yet been released at time of writing, wore fake suicide belts and vests. According to the Telegraph, the Islamic State issued an encrypted message on the app Telegram before and after the attack, encouraging followers to "kill the civilians of the Crusaders. Run over them by vehicles." The message included photos of a gun, truck and knife. ISIS, however, has not claimed responsibility for the attack.
Prime Minister Theresa May was quick to cast blame on the "single evil ideology of Islamist extremism," according to CNN.
"Since the emergence of the threat from Islamist-inspired terrorism, our country has made significant progress in disrupting plots and protecting the public," May said Sunday. "But it is time to say `enough is enough.'"
In remarks to CNN, London Mayor Sadiq Khan emphasized that London remains safe, due in large part to quick and diligent police work.
"London is one of the safest global cities in the world," Khan said. "One of the reasons we're kept safe is because of the hard work of our police and emergency services." He added that the city will see "an increased police presence" in coming days.
In a statement posted to Twitter, Khan said the attacks left him "appalled and furious," and condemned them "in the strongest possible terms." He offered his condolences to the victims and their families, and thanked emergency responders and police for their service.
That didn't stop President Donald Trump from criticizing Khan, though. "At least seven dead and 48 wounded in terror attack and mayor of London says there is 'no reason to be alarmed!'" Trump tweeted.
"We must stop being politically correct and get down to the business of security for our people," he wrote in another tweet. "If we don't get smart it will only get worse." He also touted his travel ban, which targets six majority Muslim countries.
Information on the attackers is currently scant, and again, the Islamic State has not yet taken responsibility for the attacks at time of writing. Harun Khan, secretary general of the Muslim Council of Britain, strongly condemned the incident, however.
"Muslims everywhere are outraged and disgusted at these cowards who once again have destroyed the lives of our fellow Britons," Khan said, according to the Evening Standard. "That this should happen in this month of Ramadan, when many Muslims were praying and fasting only goes to show that these people respect neither life nor faith."
What's fake
As BuzzFeed News reported, fake photos and misleading social media posts circulated in the wake of the attacks. Trolls posted pictures of random people they claimed went missing during the attack — including one little boy a Twitter user said was his little brother — but who, in reality, had nothing to do with the incident.
Trolls also shared a blurry picture of a man driving a silver car, whom they said was among the suspects — that's false. The man in the photo is Samuel Hyde, an American comedian and meme-maker who is not connected to Saturday night's terrorist attack.
Additionally, one user tweeted a screenshot from Al Jazeera's Facebook live feed. Covered in laughing emojis, the image was offered as evidence that "moderate Muslims" were amused by the attacks. But, as BuzzFeed reported, the laughing emoji made up a very small minority of reactions to the video.
According to BuzzFeed, MSNBC mistakenly reported that the scope of the attacks extended to Luton, a town in southern England about an hour's drive from London Bridge. As previously noted, the investigation is concentrated in south London.
Follow Mic's breaking news live blog for continued updates.