Hours before London attack, ISIS reportedly used app to call for knife and truck attacks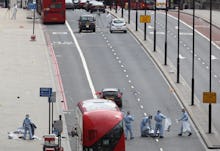 Mere hours before a van went careening into crowds on the London Bridge and armed attackers went on a stabbing spree Saturday, ISIS reportedly used a messaging app to call for supporters to "kill the civilians of the Crusades, run over them by vehicle."
According to the Telegraph, the message, written in English and Arabic, was sent on the the encrypted messaging app Telegram. The propaganda poster had pictures of a gun, a knife and a white truck. "Gain benefit from Ramadhan," the poster reportedly said.
As the Washington Post reported in December, Telegram is "the app of choice" for many jihadists.
"It has surpassed Twitter as the most important platform," Steven Stalinsky, author of a study into terrorists' use of Telegram, told the Post. "All the big groups are on it. We see ISIS talking about the benefits of Telegram and encouraging its followers to use it."
Authorities have labeled the attack in London — which left at least seven people dead and dozens injured — as an act of terror. ISIS has yet to claim responsibility.
As the Telegraph noted, ISIS has called for a war against the Western world during the Muslim holy month of Ramadan. On May 27, the first day of Ramadan, a Taliban suicide bombing killed 18 people in Afghanistan, Mic previously reported.