In the wake of the London Bridge attack, Londoners are helping one another out with #SofaForLondon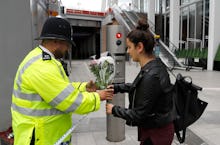 The terror attack in London on Saturday night left a number of people stranded, as police cordoned off broad swathes of south London in the course of their investigation. Londoners are stepping up, offering accommodations, rides and whatever help they can on social media, under the hashtag, #SofaForLondon.
"Have a safe #SofaForLondon if anyone stranded #LondonBridge #BoroughMarket #Vauxhall," one Twitter user wrote.
"If anyone caught in the London Bridge incident needs place to sleep, we have a spare room in east London," another offered.
At around 10 p.m. local time, three masked men plowed into pedestrians on London Bridge, before abandoning their van and launching an attack on the bars and restaurants of nearby Borough Market. The men stabbed patrons indiscriminately before police arrived on the scene and shot them dead.
The attack left seven people dead and 48 injured. The suspects have not yet been identified, although Prime Minister Theresa May cast blame on "Islamist extremism." An investigation is underway, and according to CNN, much of the area around the attack sites has been partitioned off. That means many residents are currently unable to go home.
George Moss, a 22-year-old man whose street was blocked off by police Saturday night, told the BBC that, without the kindness of strangers, he would've been out on the street. Moss lost his phone, but was able to borrow one from a journalist. That's how he found out about #SofaForLondon and got in touch with Holly Robinson and Mary Lynch, who gave him a place to stay.
"I would have been in a pickle," Moss told the BBC, "I wouldn't have anywhere else to go."
"You have to give whatever you can, whenever you can," Robinson said.
According to the BBC, local bars also put up people temporarily displaced by the attacks. A pub called the Royal Oak reportedly welcomed about 150 people evacuated from surrounding hotels and barred from their homes.
The Independent reported that Muslim taxi drivers also offered free rides, as drivers did in the wake of the recent suicide bombing in Manchester, England, which left 22 people dead and dozens injured.
"I have just had a Muslim taxi driver take me home and he has cried on me over the attacks tonight," one Twitter user wrote. "Terrorism has no religion #LondonBridge."