'Fox & Friends' forced to issue clarification after guests advocate internment camps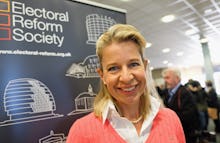 Fox & Friends was forced to issue an on-air clarification on Sunday after several guests discussed mass internment of "jihadis" in response to Saturday's terror attack in London, with host Clayton Morris telling viewers the network believed the idea is "reprehensible."
According to Mediaite, right-wing Daily Mail columnist Katie Hopkins had argued that "3,000 people on the watch list" needed to be "rounded up" by Prime Minister Theresa May's government, adding "We need to hear 650 jihadis that returned to the U.K. are going to be incarcerated and deported and we need to hear that Saudi backed Mosques and extreme hate preaches and Imams within those mosques are also going to be shut down and reported."
"That's what regular British people want to hear," she added. "... We need to start incarcerating, deporting, repeating until we clean this country up."
Host Abby Huntsman responded by telling Hopkins she agreed "We've got to get over the political correctness."
Former UKIP leader Nigel Farage had also told viewers future attacks would make discussion of internment more likely, but said "I don't think they've got the stomach to do that."
Internment camps are often known by the less euphemistic term "concentration camps." The U.S. interned some 120,000 Japanese-American residents during World War II in what is now commonly regarded as a major human rights violation, though the idea has been revived by some on the right in response to terror attacks.
In a clip posted by Mediaite, a somewhat unnerved-looking Morris said "Earlier on the show, we had a couple of guests mention the word internment, the idea of internment camps as a possible solution to this."
"I think I made it well-known my feeling on that, which I find reprehensible, but on behalf of the network, I think all of us here find that idea reprehensible here at Fox News Channel," he continued.
However, the network should have been aware Hopkins would advocate something untoward; after a suicide bombing in the city of Manchester last month, she responded by demanding authorities settle on a "final solution," the Nazi term for the Holocaust.