Apple App Store Games Disappearing: 32-bit iOS apps no longer appear in the Apple Store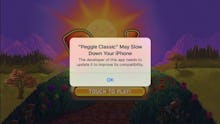 The first few generations of iPhone contained a 32-bit chip that limited the amount of memory they could contain (and that programs could utilize) to 4 GB. However, when the iPhone 5s launched, Apple made the decision to move their smartphone line to 64-bit processors.
Up until now, Apple has added 32-bit compatibility in iOS to allow the iPhone's 64-bit processor to run older 32-bit programs but has stated that at some point they'd be discontinuing support for those programs in the Apple App Store. Well, the day has come, and according to TouchArcade, you'll no longer find 32-bit apps when you search the store.
Apple App Store Games Disappearing: How to download games that no longer appear
When you load a 32-bit app on your iPhone, you'll receive a message that states "(app name) May Slow Down Your iPhone." Up until today though you could still freely search for and download those apps from the store regardless of the warning. Now though, you won't find them in any search or category listing. That doesn't mean they're gone though.
Apple is not going to take away apps that people have purchased previously, regardless of compatibility with their phones. Therefore, they're still on the app store, just hidden from normal view. You can still download 32-bit apps like Ridiculous Fishing, Super Crate Box and Dungeon Raid from your purchase history.
There's also a way to get 32-bit games and apps if you've never downloaded them before. You can check a service like AppShopper that has URLs for almost every app on the iOS App Store. If you click on an Apple App Store URL in Safari on your iPhone, you can then choose to open the store to the listing of the app. Then you can go ahead and purchase or download whatever 32-bit app you desire.
Be warned though. Taking 32-bit apps off the app store search and listings indicates that Apple may drop support for 32-bit games from its future devices entirely, so even if you can still access them through a workaround, soon you may not be able to use them at all.
More gaming news and updates
Check out more video game content on Mic. Including which Pokémon are actually the best and why black players can never seem to get custom characters that look like them. Learn more about how blind gamers are getting in on the fun and how Injustice 2 seems to give its female characters the short end of the stick. See why we love Twintelle (and why we hate Twintelle) in the upcoming Arms, and don't miss our guide to dodging blue shells in the Mario Kart 8 Deluxe — you can thank us later.