'Tekken 7' Online Issues: what to do when the connection has been lost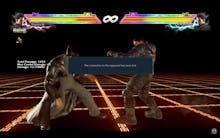 The updated Tekken 7 was just released for PC, Xbox One and PS4 — but unfortunately, players are already reporting online issues and their connections being lost.
Here are some places you can check if you're one of those players
If your connection has been lost in Tekken 7, here's what you can do
No official word has been given from Bandai Namco to address the issue, but it's always worth checking their Twitter, just in case.
In addition, Katsuhiro Harada, the game director, has been interacting with fans about their concerns, so it might be a good idea to keep an eye on his Twitter as well.
Harada has said they are working on improving matchmaking, so with that new update might come a permanent fix to this problem.
More gaming news and updates
Check out more video game content on Mic. Including which Pokémon are actually the best and why black players can never seem to get custom characters that look like them. Learn more about how blind gamers are getting in on the fun and how Injustice 2 seems to give its female characters the short end of the stick. See why we love Twintelle (and why we hate Twintelle) in the upcoming Arms, and don't miss our guide to dodging blue shells in the Mario Kart 8 Deluxe — you can thank us later.