'Wonder Woman' charts largest opening weekend for a female director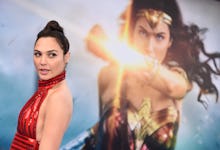 Wonder Woman smashed a box office record this weekend, and it didn't even need help from male boycotters to do so. Go figure!
According to BoxOfficePro.com, the reboot raked in $100.5 million in domestic theaters over the course of its opening weekend — the largest sum ever for a female director, according to Business Insider.
Wonder Woman is directed by Patty Jenkins and stars Gal Gadot as Diana, an Amazonian warrior princess hell-bent on stopping her half-brother, Ares — God of War — from architecting mass slaughter on the Western Front of World War I.
Perhaps unsurprisingly for a female-focused film infiltrating the male-dominated superhero action sub-genre, the movie has been besieged by sexism in the weeks leading up to its debut: When the Alamo Drafthouse in Austin, Texas, announced a women-only screening, which they intended as a nod to the all-female island Wonder Woman inhabits, men pitched a fit.
"Imagine the shitstorm if there was any male-only showing of anything ... or a private showing for a specific race or sexual orientation," Tony Lee wrote on the Drafthouse's Facebook page.
One angry man became so incensed over what he saw as an undue celebration of the "achievements by the second-rate gender" that he wrote a letter to Austin Mayor Steve Adler, threatening to boycott not just the screening, but the entire city. Adler penned a subtly savage response that can and should be read in its entirety here.
The Wonder Woman-related sexism hasn't been confined to Texas, however. In his recent review, Vulture's David Edelstein described Gadot as "somehow the perfect blend of superbabe-in-the-woods innocence and mouthiness," suggesting that her attractive appearance was almost enough to make him forget "the limpness of the storytelling." It was definitely enough to make him forget "Lynda Carter's buxom, apple-cheeked pinup" portrayal of Wonder Woman, though.
With all that nonsense in mind, the movie's record-breaking weekend is all the more satisfying when one considers that women fueled its success. According to Business Insider, women composed 53% of the film's domestic audience.
All told, a compelling argument for Wonder Woman's women-only paradise.