Watch Ariana Grande sing emotional rendition of "Over the Rainbow" to close One Love Manchester show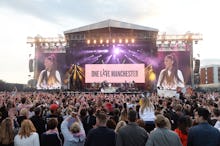 Pop star Ariana Grande made an emotional and triumphant return to the stage in the U.K.'s city of Manchester, where weeks ago a suicide bomber detonated at one of her concerts, killing 22 and injuring dozens.
Grande joined other artists including Justin Bieber, Coldplay, Katy Perry, Miley Cyrus and Pharrell Williams for the One Love Manchester event, which raised at least $9 million dollars to benefit victims, per the Associated Press. The concert went forward despite a Saturday night attack in London, where at least seven people died and dozens of others were wounded in a van and knife attack.
The reaction to Grande's last song, a rendition of The Wizard of Oz's classic song "Over The Rainbow" brought her to tears near the end of the performance.
"Thank you so much, I love you," Grande said before leaving the stage,