Far-right activists and anti-fascist groups clash in Portland at dueling rallies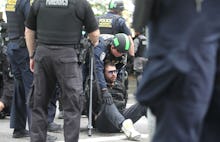 Hundreds of anti-fascist organizers and others descended on downtown Portland, Oregon, on Sunday to face off against a smaller but vocal contingent of right-wing demonstrators just nine days after a white supremacist allegedly murdered two people and wounded another, CNN reported.
Mayor Ted Wheeler had asked the federal government to revoke permits for two right-wing "free speech" events, including Sunday's Trump Free Speech Rally, in the wake of the murders. But organizers Patriot Prayer ended up being allowed to host the event, albeit with heavy security; riot police and federal agents with body armor, batons and long arms lined the streets, while loudspeakers announced movement restrictions for attendees of both the Trump event and counter-demonstrations.
Attendees included some of the biggest names on the so-called alt right, the loosely organized and mostly digital network of white nationalists, supremacists and other far-right activists which sprung to prominence amid President Donald Trump's rise to power. Kyle Chapman, the white nationalist who won internet fame for clubbing anti-fascists at a prior event, was there, as well as internet troll Tim Gionet (known online by the username "Baked Alaska").
The situation quickly escalated, according to FOX 12 Oregon's live feed. At one point, what sounded like flashbangs could be heard in the distance, along with wafting clouds of smoke, tear gas or both.
The Portland Police posted photos of seized weapons — mostly improvised clubs and sticks — as well as said they were clearing Chapman Square, where one of the counter-protests was being held. Authorities also made a number of arrests.
Oregon Public Broadcasting's Bryan M. Vance initially tweeted the police were "incredibly prepared," but less than 20 minutes later posted a photo of an anti-fascist activist who had been shot with a rubber bullet.
Here's some more scenes from the day, as captured by media on the scene:
This is a breaking news story and may be updated as more information becomes available.