'Dragon Quest XI' trailer: New footage of PS4 and 3DS versions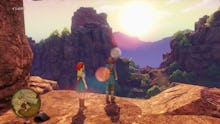 Dragon Quest XI is the 11th numbered entry in the long-running Dragon Quest role-playing series, and it's releasing on Nintendo 3DS and PlayStation 4 on July 29. We've seen additional tidbits about the game trickling out about the upcoming RPG, and the latest video footage to surface shows off a volcano dungeon and new towns that you'll get to explore in-game. The trailers come by way of V-Jump, a Japanese video game and manga publication.
Dragon Quest XI: New PlayStation 4 footage
PlayStation 4 owners get a look at the Village of Ishi, or the starting village in-game. It's rife with rocky caverns with stairs built into them, and a gorgeous vista overlooking a plunging area by a waterfall. There's plenty of exploration in a shop where a bunch of pumpkins are knocked over, and some box-jumping where the protagonist ends up finding an item on the top of a grassy roof, where there's also a treasure chest holding some money.
You also get a look at the Hinonogi Volcano, where you see several enemies as well as shiny versions of them. You can ride the enemy Baron Knight as a special mount as well, which is shown in the video.
Finally, the third video for the PlayStation 4 version shows off a fight against a terrifying Man-Eating Fire Dragon.
Dragon Quest XI: New Nintendo 3DS footage
The Nintendo 3DS version is obviously very scaled down from the PlayStation 4 version of Dragon Quest XI, but it has a charming retro feel that you'll see with the bottom screen's 2D mode. The top screen will, of course, show the game's 3D mode. The video also demonstrates what the area of Delkadal Kingdom will look like.
For the second video, we get to see additional views of the 2D mode that shows up on the 3DS's second screen, as well as the town of Darhalune.
Finally, the third video shows off the town of Yocchi. There are several creatures here that go by the same name, and this location is also related to StreetPass in some way. According to Siliconera, there wasn't any additional information given on that just yet.
Dragon Quest XI is going to be an exciting entry in the series, no matter which version you choose to play as. It's an interesting move to offer one in a different style than the other, and if the game does eventually come west, we'll be sure to offer up our impressions on it.
More gaming news and updates
Check out more video game content on Mic. Including which Pokémon are actually the best and why black players can never seem to get custom characters that look like them. Learn more about how blind gamers are getting in on the fun and how Injustice 2 seems to give its female characters the short end of the stick. See why we love Twintelle (and why we hate Twintelle) in the upcoming Arms, and don't miss our guide to dodging blue shells in the Mario Kart 8 Deluxe — you can thank us later.