3 big takeaways from Megyn Kelly's interview with Vladimir Putin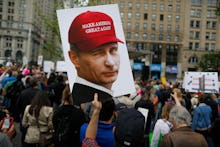 As pressure builds on President Donald Trump over his campaign's alleged ties to Russia amid a growing investigation by special counsel Robert Mueller and a string of damaging media reports, former Fox News host Megyn Kelly, now with NBC News, scored a sit-down interview with Russian leader Vladimir Putin on Sunday night.
It was always doubtful Putin, a former KGB agent and spin master, would do anything but rebuke accusations of Russian involvement. But his side of the story is clear: You've got the wrong suspect.
Putin took the opportunity to completely deny all Russian involvement in the 2016 elections, which United States intelligence agencies say he personally tried to disrupt by hacking into Democratic computer systems and releasing embarrassing info about the party's nominee, Hillary Clinton. Putin also brought up the U.S.' history of electoral interference before clarifying that Russia saw no need to interfere in 2016; in addition, he repeatedly denied contact between Russian officials and Trump associates.
Here are some key takeaways from the interview.
Putin denies everything
"They have been misled, and they aren't analyzing the information in its entirety," Putin told Kelly. "I haven't seen even once any direct proof of Russian interference in the presidential election in the United States."
Putin denied knowing Michael Flynn, Trump's disgraced former national security adviser who resigned after being caught out about a secretive phone call with Russian ambassador Sergey Kislyak. Putin and Flynn were photographed sitting together at a 2015 dinner in Moscow in honor of state broadcaster RT, which Flynn later failed to disclose had put him on its payroll.
"I made my speech," Putin said, adding that the two had barely talked. "Then we talked about some other stuff. And I got up and left."
Putin similarly denied Russian intelligence services had acquired compromising information on Trump, calling the idea a "load of nonsense" and asking "Where would we get this information from? ... There was a time when he used to come to Moscow, but you know, I never met with him. We have a lot of Americans who visit us."
Finally, Putin denied reports of contact between Trump campaign associates and Kislyak, saying he did not have the time to personally supervise the ambassador's schedule but found the idea unconvincing.
Putin says Russia has no interest in throwing U.S. elections
"Put your finger anywhere on a map of the world, and everywhere you will hear complaints that American officials are interfering in internal electoral processes," Putin told Kelly.
When the host interjected, saying it sounded like the Russian leader was justifying alleged interference in elections around the globe, he responded, "Every action has an equal and opposite reaction. But, I repeat, we don't even have to do that. Presidents come and go, and even the parties in power change, but the main political direction does not change.
"That's why, in the grand scheme of things, we don't care who's the head of the United States," he added. "We know more or less what is going to happen ... It wouldn't make sense for us to intervene."
Putin says anyone could have hacked the Democratic Party, including U.S. intelligence services
Putin dredged up conspiratorial musings on the assassination of President John F. Kennedy, saying if U.S. intelligence services were capable of killing him, then they could have easily framed anyone for the election hacks — a theory now common among Trump and his supporters, who argue the "deep state" is sabotaging him for threatening global power brokers.
He also suggested the hackers could be anywhere and were not necessarily Russian.
"Hackers can be anywhere," he said. "They can be in Russia, in Asia ... even in America, Latin America. They can even be hackers, by the way, in the United States, who very skillfully and professionally shifted the blame, as we say, onto Russia. Can you imagine something like that? In the midst of a political battle."