In AM tweetstorm, Trump slams "politically correct version" of what he confirms is a "travel ban"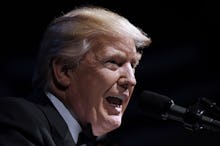 President Donald Trump threw a wrench into his own plans to implement a travel ban, reiterating in a Monday morning tweetstorm that it is, in fact, a "ban" and lamenting the fact that the current version being challenged in court is "watered down" and "politically correct."
"People, the lawyers and the courts can call it whatever they want, but I am calling it what we need and what it is, a TRAVEL BAN!" Trump tweeted.
He continued in a subsequent tweet: "The Justice Dept. should have stayed with the original travel ban, not the watered down, politically correct version they submitted to [the Supreme Court.]"
It's unclear why Trump is attacking the Justice Department, which, as president, he controls.
Trump's travel ban — which attempted to block people from six majority-Muslim countries from coming to the United States, as well as halt the admittance of refugees from around the globe — has been blocked multiple times times by numerous courts.
In the decisions blocking the ban, federal judges have used Trump's past comments to demonstrate that the intent of the executive order was to ban Muslims from entering the country based on a pledge he made during the 2016 presidential campaign.
Trump's Monday tweets undermine his administration's previous denial that the policy was intended to be a ban.
The Trump administration has appealed the injunction on the ban to the Supreme Court, after a panel of federal judges based in Virginia again blocked the order from being enforced.
On Monday, Trump said the Department of Justice should seek an "expedited hearing" for the ban.
"The Justice Dept. should ask for an expedited hearing of the watered down travel ban before the Supreme Court — and seek much tougher version!" Trump tweeted.