Khloé Kardashian accused of stealing designs from an independent designer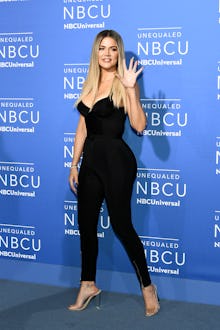 Ever since Britney Spears' music video for "Toxic," crystallized bodysuits have been a must-have item for young women ascending to stardom, so who could have thought it'd be exactly that item that got Khloé Kardashian in trouble?
Late last week, Kardashian debuted a new campaign video for her denim line Good American, and at the 40-second mark, a model appears in a nude bodysuit with crystal strategically placed over the breasts.
According to designer Destiney Bleu, whose brand dbleudazzled has been seen on women like Beyoncé and Serena Williams, it's a near replica of her own bodysuits, which she claims Kardashian herself bought months ago.
After seeing the video, Bleu wrote on Twitter: "When someone buys one of everything on your site, has you make them custom d.bleu.dazzled work, never posts it or wears it, and then copies it."
For reference, you can see Kardashian's bodysuits on the top of this tweet and then Bleu's work on the bottom.
According to Bleu, she knows that Kardashian bought some pieces from her in December, and she knew that bodysuits very similar to her own would appear in the video, because a friend told her from the set.
To Bleu, it's not just a ripped-off design, because she thinks Kardashian really bought her pieces with the intent to copy them for this campaign.
And that's enough for her to claim that she's ready to use legal action to make sure these bodysuits never show up like this again.
Amid all these claims, Good American was quick to issue a response to Bleu.
"Under no circumstances did Good American or Khloé Kardashian infringe on another brand's intellectual property," the company said in an email, additionally noting that it is "going through the proper legal channels to handle the situation."
But still, this isn't the first time Kardashian has been accused of copying designs for her Good American line. In March, the indie denim brand Made Gold said that Good American's new lace-up jeans copied its jeans.
At that time, a Made Gold representative made clear why it is so wrong for a woman like Kardashian to copy an independent designer in particular.
"I know the struggles that my designers have to go through to just make it to the next season, so when I see things like them getting ripped off by major, fully funded brands, it's more than irritating," Clara Jeon, the founder of Chapter 2, which represents Made Gold, told Refinery 29.
Indeed, that was one of Bleu's main complaints. She's an independent designer doing everything on her own. She's successful, but her collection is her life, so an already incredibly rich person copying her work feels doubly offensive.
And plenty of people already have her back.
Mic has reached out to Bleu for further comment.