Apple's WWDC 2017 keynote livestream and what to expect from Monday's event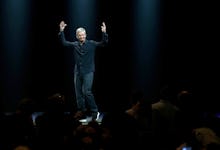 It's time for some long-awaited Apple updates. Apple's Worldwide Developers' Conference kicks off Monday at 10 a.m. PDT. The company will take the stage in San Jose, California, to seduce viewers with the latest software and hardware updates. Don't hold your breath for a new phone — the 10th anniversary iPhone is almost definitely reserved for Apple's fall event. But there are a number of updates Apple will try and titillate us with during the WWDC keynote.
New operating systems for iPhone and Mac
Apple will likely show off the latest iterations of its operating systems — iOS 11, macOS 10.13 and minor updates to watchOS and tvOS. A "files app" leak spotted by developer Steve Troughton-Smith also signals that Apple may be taking cues from Android and changing how users can share files between apps.
New iPad Pro and MacBook Pro
For those more interested in the tangible, there are rumors that there will be some hardware updates announced during Monday's keynote. Apple is expected to update the iPad Pro and MacBook Pro lines. While the laptop models probably won't see any major design overhauls, they will likely get speedier and may release with the option to include more memory. As for the new phablets, rumors suggest they'll have slimmer bezels, meaning more screen real estate.
Maybe a smart speaker
One of the more contested rumors is that Apple is going to release its own Amazon Echo and Google Home competitor. The company is reportedly working on a Siri-powered smart speaker. The voice-activated speaker isn't reported to be dramatically different from competing products already in the market (though it'll likely get that sleek-as-hell Jony Ive design treatment), but Bloomberg reported that it may come equipped with "virtual surround sound technology," making for a higher-quality audio experience than the rest.
You can watch a livestream of Apple's WWDC keynote online. Dust off that Safari, your Google Chrome is no good here.