How Donald Trump will tweet and speak this week to distract from James Comey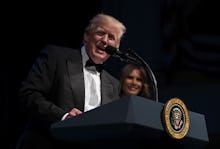 President Donald Trump tweeted Monday morning a renewed call for what he called his "travel ban" on people traveling to the United States from six Muslim-majority countries. That policy has been struck down repeatedly in federal court but it remains a cornerstone of Trump's first 100 days — and a promise he made to voters in December 2015.
The day after a terrorist attack Saturday night in London killed seven people, Trump went on to Twitter to criticize London Mayor Sadiq Khan and note that the attackers did not use guns. "As president I will do what is necessary is to prevent this threat from spreading to our shores," Trump told journalists Sunday night.
On Monday morning, Trump said the Justice Department should not have pursued the "watered down, politically correct" version of the travel ban that has been sent to the Supreme Court. That personal admission could create a host of legal problems for the president as justices consider his intention when crafting the policy.
Trump tweeted that the DOJ should seek a quick hearing before the court on the travel ban — "and seek [a] much tougher version!" (Remember when the press secretary Sean Spicer said Trump's executive order was "not a travel ban"?) The government asked the court to decide immediately if the ban could go into effect and postpone arguments on the ban's legality until fall 2018.
Yet top Republican and Democratic senators shrugged off a return to the travel ban debate on the Sunday TV circuit. Trump's second ban would have stopped travel from six majority-Muslim countries for 90 days to allow the U.S. to increase its already stringent vetting procedures. "It's been four months since I said they needed four months to put that in place," said Senate Intelligence Committee member Roy Blunt (R-Mo.).
This is Mic's daily read on Donald Trump's America. Welcome to the political newsletter that is glad Trump did not fire off those tweets at 3 a.m.
Will Trump's tweeting sufficiently divert attention from James Comey's testimony? Email me at trumpsamerica@mic.com.
Want to receive this as a daily email in your inbox? Subscribe here.
We're seeking your support to expand our coverage of Donald Trump. As little as a $1 a month will give you access to an exclusive group to interact with Mic journalists and grow our reporting. Learn more here.
What we're watching
Today: The president aims to set this week's agenda with his tweets.
More: James Comey will testify before the Senate on Thursday.
Even more: Focus on infrastructure — not Comey, the White House hopes.
Trump's agenda today: Announcing reforms to air traffic control. Meeting with Vice President Mike Pence and Education Secretary Betsy DeVos. Holding a reception for Gold Star Families.
James Comey will take the stand on Thursday
Former FBI Director James Comey will testify Thursday in front of the Senate Intelligence Committee. He is expected to confirm what he wrote in memos leaked to journalists: that Trump told his then-FBI director to stop investigating former national security adviser Michael Flynn. The conversation is likely a focus for Robert Mueller, the special counsel investigating alleged Trump-Russia ties — though proving the president obstructed justice could be difficult.
It's still possible Trump could invoke executive privilege to block Comey… but it doesn't appear likely. Sources told the New York Times that Trump would not seek to stop Comey's testimony. Yet Trump could always change his mind. And Monday morning showed he has other tools to distract from the story at hand.
Trump's infrastructure pitch
Trump will announce Monday that the federal government should sever ties with all air traffic control operations. He will push later this week for $1 trillion in infrastructure spending to repair roads and bridges. On Friday, he'll push to cut regulations that lengthen the timeline for infrastructure projects.
The focus on rebuilding America keeps a campaign promise while distracting from Comey's testimony. We'll see if Trump can stick to the script. To stymie Trump's announcement, progressives in Congress signed on to a staggering $2 trillion in infrastructure spending over the next decade.
With this pivot to infrastructure, the fact remains Republicans are halfway through their first year of total control in Washington since 2006. They still have no major legislative achievement. Congress will head home for August and return to face a potential debt default and government shutdown in September.
News and insight you cannot miss:
• Former Rep. Barney Frank tells Mic the GOP's financial deregulation bill is a "direct threat" to millennials. This week, the House will vote on a Republican proposal to gut the Consumer Protection Bureau and roll back regulations on banks that caused the 2008 financial crisis.
• Watch how French President Emmanuel Macron is trolling Trump.
• Several Arab nations have said they will cut ties with Qatar over the oil-rich country's alleged support of terrorist groups.
• Prime Minister Theresa May said there is "far too much tolerance of extremism" following the London attack.
• The New York Times estimates 59,000 to 65,000 people died from drug overdoses in the U.S. in 2016 — triple the number from 2000.