Here's what to know about the UK election in the wake of 3 deadly terror attacks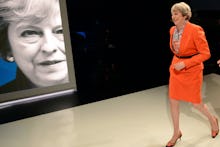 On June 8 — just days after a deadly terror attack rocked London Bridge —the United Kingdom will head to the polls to decide on a prime minister.
The violent Saturday evening incident, which saw three men in a van slamming into pedestrians on the heavily trafficked bridge before attacking with knives, is the third such instance of deadly extremist violence weathered by the British public in 2017.
And since terrorism, according to a new poll, is currently the second-highest ranking concern among British voters — second only to anxiety over healthcare — it's inevitable that this most recent attack will have some real estate in the minds of voters when they head to the polls.
Here's how the latest instance of terror stands to impact the 2017 election between sitting U.K. Prime Minister Theresa May and her Labour Party challenger, Jeremy Corbyn.
Heightened police presence in the U.K.
In March, the Islamic State said that a man who drove a car into pedestrians on London's Westminster Bridge, killing four people and fatally stabbing a fifth, had been operating on its behalf. And in May, just two weeks prior to the London Bridge attack, a deadly suicide bombing at an Ariana Grande concert in Manchester resulted in 22 dead and dozens more injured.
In light of the most recent attack, May wrote in a public address of the need to "deprive the extremists of their safe spaces online... [and also] the safe spaces that continue to exist in the real world"
"Yes, that means taking military action to destroy ISIS in Iraq and Syria. But it also means taking action here at home," she said. "While we have made significant progress in recent years, there is – to be frank – far too much tolerance of extremism in our country."
But Corbyn, seizing upon the final moments of the campaign, said he would in fact back calls for May's resignation over cuts she made to police spending during her time as Home Secretary.
"There's been calls made by very responsible people on this who are very worried that she was at the Home office for all this time, presiding over these cuts in police numbers, and now is saying that we have a problem," Corbyn told ITV in an interview.
"Yes, we do, we do have a problem — we should have never cut the police numbers," he said.
Narrowing gap between May and Corbyn
May, who won her seat in the midst of the fallout from the Brexit vote last year, rolled the dice on a special June election in the hopes of creating a mandate for the controversial economic referendum.
While a Conservative Party victory in June started off looking like a sure bet, her lead over liberal rival Corbyn has dropped like a stone, from the double digits to just one percentage point, according to CNBC.
Although British pollsters are still predicting that May will emerge from the contest victorious, it's anybody race.
The polls close just days before Britain is set to enter Brexit talks with the European Union — threatening the possibility of a major political upheaval just days before the critical negotiations begin.