Portland suspect Jeremy Joseph Christian spent years spouting hatred, defending it as "free speech"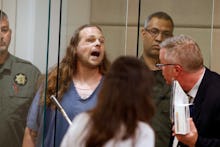 Portland, Oregon, MAX train murder suspect Jeremy Joseph Christian spent years isolating friends and unnerving strangers by spouting hatred and bigotry and defending them as "free speech," according to a new report from the Associated Press.
Over the past several years, Christian, 35, "grew increasingly angry" that people were repelled by his outbursts and did not want to discuss his views with him.
"In my Portland, you can have a serious conversation about politics, spirituality or philosophy without being interrupted and informed you aren't being PC," Christian wrote in one of several social media screeds. "Where I come from, PC people are in protective custody where they belong so they don't get killed."
On May 26, Christian allegedly stabbed three men who intervened on behalf of two teenage girls at whom Christian was directing anti-Muslim insults. Two of the men died. A third stabbing victim survived Christian's attack.
"Get stabbed in your neck if you hate free speech," Christian reportedly said in the police patrol car after he was arrested. "I can die in prison a happy man."
In a country where Muslims have been routinely surveilled, harassed and had their travel restricted for fear of the alleged national security risk they pose, it's notable that white men like Christian continue to operate unencumbered, despite being involved in a pattern of violent incidents.
Aside from the Portland attack, multiple white men with histories of bigoted behavior, statements and affiliations have been implicated in hate-fueled murders — including Adam Purinton in Olathe, Kansas, in February; James Harris Jackson in New York City in March; and Sean Urbanski in College Park, Maryland, in May.
The AP report sheds light on how men like this can exhibit increasingly alarming behavior — even to the point of committing murder — but still avoid being considered existential threats to American society in the way that Muslims often are.
It also casts an unflattering light on the rhetoric surrounding President Donald Trump's election. Trump and his supporters have frequently espoused bigotry and advocated violence under the guise of "free speech" and combating so-called "political correctness." Meanwhile, violent incidents directed against immigrants and Muslims dramatically increased in frequency after Trump announced his candidacy.
There were plenty of warning signs prior to Christian's May 26 attack — even if those signs sometimes lacked political coherence. After years of cycling in and out of the legal system, for crimes ranging from robbery and kidnapping to possession of a stolen revolver, Christian began lashing out at practically anyone and anything that grabbed his attention.
He made death threats against both Hillary Clinton and Donald Trump. He tried arranging a barbecue with old friends from his middle school, but was rebuffed when he made offensive comments on the school group's Facebook page and insisted that it was just "free speech."
"Jeremy dude you are ruining this whole experience for everyone," one friend wrote in response, according to the AP.
Christian's Facebook history was peppered with white supremacist diatribes and posts sympathetic to Adolf Hitler and Oklahoma City bomber Timothy McVeigh, according to Oregon Live. Before the attack, Christian was filmed in a Burger King parking lot giving a Nazi salute and shouting, "Die Muslims!"
Yet Christian's actions have sparked only delayed responses from Trump, who in other cases has made it a point to quickly condemn so-called "radical Islam" and tout the virtues of his Muslim travel ban. The difference is telling. One form of radical violence warrants Trump's condemnation, and is scapegoated on a massive group of people. The other form — the kind exhibited by Christian and his cohorts — is brushed off as an aberration.
It seems logical that if a handful of Muslim extremists can prompt the criminalization of 1.6 billion Muslims worldwide — especially if their views clash so starkly with the majority of Muslims' — then Americans can come to terms with the threat of white supremacist violence that has defined their nation's history.
But if the events of this year are any indication, such a concession is little more than a pipe dream. And the next Jeremy Christian is likely waiting around the corner.