Katy Perry's One Love Manchester outfit was a touching tribute to victims of the attack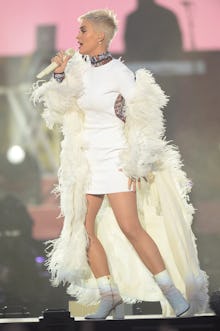 To the One Love Manchester concert, which was set up by Ariana Grande to raise money for the families of the Manchester attack's 22 victims, Katy Perry not only showed her support through her presence and performance, but through her outfit too.
To the concert, during which Perry sang her anthems "Roar" and "Part of Me," she wore a white coat with feathers and a white minidress with cutouts along the side. Under that dress, Perry wore a hidden tribute to the victims: a turtleneck printed with all their faces.
"It's not easy to always choose love, is it? Especially in moments like these, right?" Perry asked the crowd that night. "It can be the most difficult thing to do. But love conquers fear and love conquers hate. And this love that you choose will give you strength, and it's our greatest power."
From afar, the faces in the turtleneck were hard to see, but people on Twitter figured it out, noting that the cutout in the back of her dress even looked like a heart.
There's no official word yet on who designed these pieces for Perry, though we do know that designer Adam Selman, who's had a hand in designing and styling Perry's most recent performances, wasn't responsible for this one.
June 5, 2017, 2:14 p.m.: This post has been updated.