Everything we know about NASA's plan to fill the sky with colorful, artificial clouds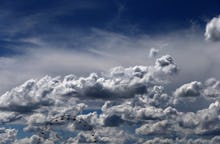 Later in June, people in the United States' mid-Atlantic region will likely be treated to a unique early-morning sight: colorful artificial clouds, courtesy of NASA.
The blue-green and red clouds will be produced by the launch of a Terrier Improved Malemute sounding rocket carrying 10 canisters, which will be deployed approximately five minutes after the launch. These canisters will release the colorful vapor trail, which allow NASA's scientists to track how particles move in space and learn more about upper atmospheric winds.
Though vapor tracers have been used by scientists in the past, the multi-canister ampoule ejection system onboard this mission will allow scientists to cover a much larger area than previous tests, the NASA website notes.
The brightly hued clouds won't pose a threat to people on the ground, NASA's website assures; the vapors are released between 50 and 248 miles above Earth, and the metals they contain — including barium, lithium and tri-methyl aluminum — are similar to those found in fireworks.
Instead, viewers can simply enjoy the colorful sight, which should be viewable on the East Coast from New York down to North Carolina. The rockets will take off from the Wallops Flight Facility in Virginia, and NASA will have cameras on the ground to record the clouds at Wallops and in Duck, North Carolina.
Though the vibrant test was originally scheduled for earlier in 2017, and most recently for June 4, the exact conditions demanded for the mission have caused it to be continually postponed. In addition to requiring clear skies at one of the two ground stations, the test was also once postponed because of boats in the area where the payoff from the rocket was expected to land when falling back to Earth, according to Gizmodo.
NASA currently expects the vapor trail to take place "no earlier than June 11," and the exact date and time of the launch will be released on NASA's Wallops Flight Facility webpage when available.
For those who can't see the unique sight in person, a livestream will be available on the Wallops Ustream page beginning at 3:45 a.m. Eastern time on the day of the launch.