'Wonder Woman' Box Office Results: How does the DC film stack up against other superhero movies?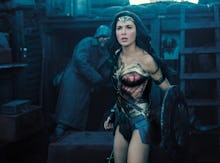 In many respects, the woman-helmed Wonder Woman kicked some serious ass at theaters worldwide during its opening weekend. Not only did it impress the majority of audiences who saw it, it smashed the box office, raking in approximately $100.5 million domestically, according to Box Office Mojo as of Monday morning.
The reception is huge for the movie's director, Patty Jenkins, as it's the most successful opening weekend for a female director in movie history. The closest behind her was Sam Taylor-Johnson's 50 Shades of Grey, which scored over $85 million domestically during its February 2015 opening weekend. But even without the chart-topping earnings, considering the subject matter and each film's execution, Wonder Woman is the decisive women-driven powerhouse.
Back to earnings though: How did said powerhouse measure up against the scores of other superhero movies that have dominated theater box offices in their opening weekends? Its overall ranking may not seem all that impressive at first, but take a look at how it compares to others of its kind.
According to Box Office Mojo, Wonder Woman ranks 16th among all the superhero movies ever released in theaters for its opening weekend gross earnings. While that doesn't necessarily sound like a number to brag about, it's actually pretty impressive if you consider how well it did compared to other superhero movies from the DC Extended Universe.
Here's how Wonder Woman's opening weekend ranks among the other top-ranking DC Comics movies.
1. The Dark Knight (2008) — $158,411,483
2. Batman v Superman: Dawn of Justice (2016) — $166,007,347
3. The Dark Knight Rises (2012) — $160,887,295
4. Suicide Squad (2016) — $133,682,248
5. Man of Steel (2013) — $116,619,362
6. Wonder Woman (2017) — $100,505,000
7. Watchmen (2009) — $55,214,334
8. Green Lantern (2011) — $53,174,303
9. The LEGO Batman Movie (2017) — $53,003,468
10. Batman Forever (1995) — $52,784,433
So Wonder Woman sits in the number six spot, right below the newer DC Comics blockbusters. According to Forbes, however, it fared much better over the course of the weekend than its DC brethren, which all made larger portions of their box office pots on their Thursday night premieres. This indicates the film didn't lean heavily on die-hard fans or pre-released tickets for the opening night.
As such, its theatrical release was more like a Marvel movie than a DC Comics movie, according to Forbes — which says a lot, considering Marvel is currently unrivaled in its superhero box office placements. In fact, Wonder Woman's first weekend beat out some of Marvel's most popular movies.
Here's how it ranked among them.
1. Marvel's The Avengers (2012) — $207,438,708
2. Avengers: Age of Ultron (2015) — $191,271,109
3. Captain America: Civil War (2016) — $179,139,142
4. Iron Man 3 (2013) — $174,144,585
5. Spider-man 3 (2007) — $151,116,516
6. Guardians of the Galaxy 2 (2017) — $146,510,104
7. Deadpool (2016) — $132,434,639
8. Iron Man 2 (2010) — $128,122,480
9. Spider-man (2002) — $114,844,116
10. X Men: The Last Stand (2006) — $102,750,665
11. Wonder Woman (2017) — $100,505,000
12. Iron Man (2008) — $98,618,668
13. Captain America: The Winter Soldier (2014) — $95,023,721
14. Guardians of the Galaxy (2014) — $94,320,883
At No. 11, Wonder Woman usurped well-known Marvel flicks like Iron Man, Captain America: The Winter Soldier, and Guardians of the Galaxy, which came in at spots 12, 13 and 14 respectively, all making under $100 million.
Just based on Forbes' assessment of its opening weekend performance, the lifetime gross could overtake some of the most profitable Marvel Comics movies on record.
Wonder Woman's already the highest-grossing, female lead superhero movie of all time, thanks largely in part to the women who made up 52% of its audiences opening weekend.
Mic has ongoing Wonder Woman coverage. Follow our main Wonder Woman hub here.