Orlando Shooting: Multiple fatalities reported in workplace shooting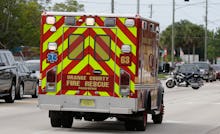 Five people, including the shooter, were reportedly killed in a shooting at an Orlando, Florida, business on Monday morning, local outlet WFTV reported. Police are on the scene of the incident, which took place in an industrial area of suburban Orlando, CNN reported on Monday.
Officers responded to reports of an active shooter and arrived on the scene at 8:05 a.m., the sheriff's office said in a tweet. The sheriff's office described the shooter as a 45-year-old "disgruntled former employee."
The shooter killed five people, including himself, according to CNN. Four died at the scene, according to the sheriff's office, and one died at a local hospital.
In a tweet from 9:36 a.m. on Monday, the sheriff's office said that officers were "on shooting scene w/ multiple fatalities. Situation contained, Now investigating tragic incident & will soon have accurate information."
Officials told WFTV that the shooting appears to be work-related, with no connection to terrorism, CNN reported. The FBI is reportedly present to assist the sheriff's office.
June 5, 2017, 11:41 a.m.:This story has been updated