'Skyrim' Nintendo Switch Release Date: When we can expect the 'Elder Scrolls' title for handheld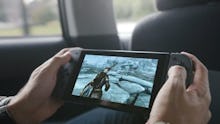 The Skyrim release date on Nintendo Switch arrives five years after the game was first released. But when can we expect the Elder Scrolls game to arrive? The exact date remains hazy, but there are clues as to when we could see the game hit store shelves.
Skyrim Nintendo Switch release date: Everything we know so far
Bethesda's epic open-world role-playing game is expected to hit the Nintendo Switch sometime in the fall, according to Nintendo.
We got our first glimpse of Skyrim on Nintendo switch during the trailer's first announcement. Along with Mario Kart 8 Deluxe and what we now know to be Super Mario Odyssey, the Bethesda title was shown being played in the home and on the go. 
Skyrim Nintendo Switch release date: Rumored November release of Super Mario may offer hints
As of now, the Skyrim release date on Nintendo Switch remains for fall 2017, though we may see more specific details announced at E3 2017. In the meantime, Super Mario Odyssey's release may provide hints as to when to expect Skyrim on Switch.
The Super Mario Odyssey release date is rumored to have been pushed up to November. If Nintendo wanted to space out their big releases for Nintendo Switch in 2017, we could see Skyrim come to Switch during another fall month, like September or October. Unless the Nintendo Switch suddenly supports virtual reality, that is, at which point fans can play the rumored Skyrim VR.
But we all know Switch won't have that for a while.
Check out more gaming news and coverage
Check out more video game content on Mic, including which Pokémon are actually the best and why black players can never seem to get custom characters that look like them. Learn more about how blind gamers are getting in on the fun and that Injustice 2 appears to be nerfing its female characters. See wh ywe love Twintelle (and why we hate Twintelle) in the upcoming Arms, and don't miss our guide to dodging blue shells in the Mario Kart 8 Deluxe — you can thank us later.