Bethesda E3 2017: New details on freemium mobile game leak ahead of conference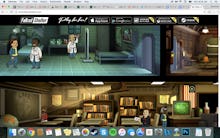 Fans of Bethesda may have something other than the new Elder Scrolls Online expansion to look forward to soon, assuming they're not averse to mobile games. According to a job posting the game developer recently put up, chances are good we may see the publisher following in the footsteps of Nintendo and Square Enix's Montreal studio.
Bethesda mobile game detailed in new job listing.
According to a post shared on the NeoGAF forums yesterday by user Nirolak, Bethesda has put up a posting for a Game Performance Manager, and all signs within the job description point to it being mobile-based. The post itself contains several key phrases that clued NeoGAF posters in to the game being a mobile game.
For instance, the description of the job states that the posting is in Montreal and that the hired applicant will "join the team that is pushing the bleeding-edge AAA freemium game development." Three of the job's duties also indicate that this posting is indeed for a mobile game:
• Work with the game design team on monetization design, strategy and execution
The job description also states that the preferred applicant would have at least five years of experience supporting AAA projects. The NeoGAF forums seemed convinced this was a posting for the mysterious Starfield, a game that ZeniMax — Bethesda's parent company — has held the trademark on for over four years. Skyrim director Todd Howard also previous confirmed that the Montreal studio is mainly focused on mobile game development as well.
With E3 fast approaching, hopefully we'll be seeing more information about this mystery mobile game — and Bethesda's other projects soon.
More gaming news and updates
Check out the latest from Mic, including our list of video games that made fun of their players, a personal essay about dealing with anxiety through Breath of the Wild, a look at the racist and sexist experiences in esports and a plea for better character customization options for black characters.