Parody Twitter account underscores just why Donald Trump's Twitter habits are so alarming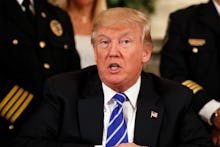 President Donald Trump's tweets have largely been viewed as a distraction from his message, with White House spokeswoman Kellyanne Conway on Monday calling the media coverage of each tweet an "obsession."
But a biting new Twitter account shows why Trump's tweets are hardly trivial missives that should be ignored by the press, per Conway's insistence.
RealPressSecBot takes Trump's tweets and formats them into official White House statements, seemingly an attempt to show that Trump's tweets are serious and should be covered as the official line from the White House as they come directly from the president.
The account sprung up over the weekend in the wake of the London terror attack, after Trump took to Twitter to push his agenda and lob attacks at London's mayor after the tragedy.
It was inspired by Pat Cunnane, a former aide to President Barack Obama, and created by Russel Neiss, who describes himself in the his account's bio as a Jewish educator.
"For context — because he's president — all of Trump's tweets should be mocked up in the correct Presidential statement format," Cunnane tweeted Sunday, with a mock up showing one of Trump's more bizarre tweet responses to the London terror attack refashioned as a release from the Office of the Press Secretary.
Neiss ran with the idea, using the Twitter bot to format Trump's tweets into "official" statements. Neiss told Mic the bot will work any time Trump tweets from the @realDonaldTrump account.
"I'm glad it resonates with people," Neiss said of the account, which gained more than 50,000 followers in less than 24 hours. "I just want to ensure that the president's statements get the proper honor and treatment that is befitting the highest office in the land."
RealPressSecBot's first tweet featured Trump's response to the London attack, in which he implored lawmakers to "stop being politically correct and get down to the business of security for our people."
The bot has captured Trump's tweets since, including his attack on London Mayor Sadiq Khan.
Trump called Khan "pathetic" in a Monday morning tweet, taking one of Khan's statements out of context to attack him as his city reels from a deadly attack.
Aside from attacking Khan, Trump also shot himself in the foot with the legal challenge to his travel ban in his Monday morning tweetstorm — calling the ban a "watered down" and "politically correct" version of the original executive order he signed.
Lawyers challenging the ban in court said those tweets made their case against the ban stronger — as federal judges have used Trump's own words to show Trump's order intended to ban Muslims from the United States.
"It's kinda odd to have the defendant in [Hawaii v. Trump] acting as our co-counsel," Neal Katyal, a lawyer representing Hawaii in its challenge to the ban, tweeted. "We don't need the help but will take it!"