'Pokémon Stars' release date event? Pokémon Direct 8-minute livestream video will arrive on June 6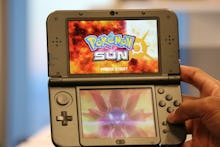 The Pokémon Stars release date has had the internet in a frenzy since hints were first dropped. Now we have the closest thing to a confirmation of a Nintendo Switch Pokémon game yet, and it comes in the form of an announcement revealing plans for an official Pokémon Direct livestream on June 6.
When is the Pokémon Direct livestream event?
According to Nintendo, the Pokémon Direct will take place on June 6 at 10 a.m. Eastern. The video event for Pokémon will be viewable live online here. According to Nintendo, the livestream will last just eight minutes.
Like past Nintendo livestreams, the Pokémon Direct may also come to Nintendo's Twitch and YouTube channels.
Pokémon Stars release date news: What about Pokémon Sun and Moon Deluxe?
It's no secret that Pokémon's creators prioritize putting the game on handheld consoles. Though with the Nintendo Switch acting as a portable game console that connects to the TV, the device almost seems tailor-made for an on-the-go game like Pokémon.
So could we see a Nintendo Switch Pokémon game announced on June 6? Potentially.
Similar to Mario Kart 8 and what many expect to happen to Super Smash Bros., the makers of Pokémon could repurpose Sun and Moon on the 3DS as a Switch game. We've already seen that the game looks good in HD, and ringing over the latest Pokémon game with a few "deluxe" improvements could easily be a system seller.
Some say this souped-up version of Sun and Moon will be known as Pokémon Stars. Similar to third-version games like Pokémon Yellow (joining Red and Blue), Pokémon Crystal (joining Gold and Silver) and more, Pokémon Stars could act as that third-game, but brought to Nintendo's latest console instead of the older 3DS. This fits more snugly into Pokémon Company's release pattern than a Mario Kart-style "deluxe" release. As for whether the rumored Pokémon Stars release date comes in 2017, 2018 or beyond remains to be seen.
We'll be bringing you details regarding the June 6 Pokémon Direct as they emerge.
June 6, 2017, 9:55 a.m. ET: This story has been updated
Check out more Pokémon Stars news and coverage
Read more coverage on the rumored Pokémon Stars, includingNintendo's comments on the potential Switch game and news about Game Freak putting up a now hiring sign. Watch how well Sun and Moon could translate to Switch if it was a thing or read up on why the game may not even arrive until next year. And if you'd rather live in the now, read about Pokémon Go instead.