Everything we know about Caitlyn Jenner's feud with the Kardashians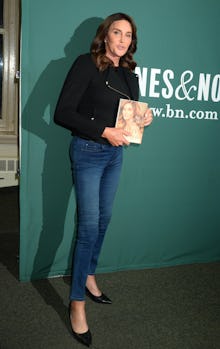 The Kardashian family is not happy with Caitlyn Jenner after reading her memoir, The Secrets of My Life.
In Jenner's book, which came out in April, she writes about her relationship with ex-wife Kris Jenner. On Sunday's episode of Keeping Up With the Kardashians, Kim and the rest of the family take issue with what's been written about them.
In the book, Caitlyn suggests that Kris kept money from her and that Kris knew about her gender identity before they got married. The relationship between Jenner and the Kardashian family has become a point of contention for everyone, and the memoir seems to have only made things worse.
Here's what to know about the feud between Caitlyn Jenner and the Kardashians:
Kim says there is a 2% chance of Kris and Caitlyn speaking again.
Things have gotten so bad that it seems as if Caitlyn and Kris may never speak again.
During an appearance on Watch What Happens Live With Andy Cohen on May 28, Cohen asked Kim Kardashian about the chances of Kris and Caitlyn ending the feud. Not holding anything back, Kim reveals there's a 2% chance of it happening, and that it would be for their daughters, Kendall and Kylie Jenner.
According to Caitlyn, Kris knew about Caitlyn's gender identity before they were married.
In The Secrets of My Life, Caitlyn says that Kris knew about Caitlyn's gender identity before they married. Kris and the rest of the Kardashians have denied this claim by Caitlyn.
This has been an ongoing issue for the former couple. In an episode of I Am Cait, Kris and Caitlyn have an argument over Caitlyn allegedly telling Kris during their marriage about her gender identity. The two have different recollections over what exactly happened.
Caitlyn claims Kris kept money from her.
Kim wasn't impressed after reading the book. In Sunday's KUWTK episode, she sits down with sister Kourtney to discuss what their former stepfather had to say. Kim feels that Caitlyn is harboring so much resentment toward Kris and for no reason. Caitlyn blames Kris for falling out of touch with her sister as well as her other children from previous relationships.
Caitlyn also claims that Kris kept money from her and discredits any of her hard work in making the family so successful. "She was insinuating that Mom took the check and pocketed it," Kim says.
Kim also reveals that there is a part of their lives fans don't really know about. When the family moved to Hidden Hills, Kim says it was a difficult time for them and that they succeeded thanks to Kris' hard work. "We couldn't pay the bills, the money wasn't going in mom's pocket," she says.
Kris Jenner isn't happy about any of it.
Elsewhere in the episode, Kim confronts Kris about the book. The two have an honest conversation about Kris' relationship with her ex, and Kris refutes Caitlyn's money claims.
"She never paid a bill from 1972. She didn't know how much a gardener was. And in the book writes, 'Well, Kris didn't need me anymore,'" Kris says. Caitlyn also suggests in her book that any money they made went solely to Kris. "Went to Kris? How about it went to the mortgage, to insurance, to education," Kris continues.
Kendall Jenner is upset with her father for trashing the Kardashian name.
Caitlyn's daughter Kendall isn't too happy about the whole thing either.
Sitting down with Kendall, Kris discussed her ex-husband's claims in the book. Kendall is just as upset as everyone else in the family over what Caitlyn had to say about the Kardashian name.
"And then she goes around dissing the Kardashians, but it's like, those are the kids that you raised!" Kendall says. "If you have a problem with them, you raised them. That makes no sense to me that she would go around bashing us for no reason."
The Kardashian-Jenner feud doesn't look like it's going to end anytime soon.
Mic has ongoing Kardashians coverage. Please follow our main Kardashians hub here.