The hidden pizza place in the Congo where Away founder Jen Rubio finds solace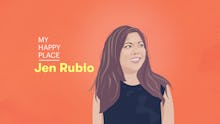 In My Happy Place, we talk to some of our favorite people about their emotional connection with an unforgettable destination.
A frequent traveler, Jen Rubio co-founded suitcase company Away in 2015 after realizing the importance of having resilient luggage. Even though she currently travels almost 200,000 miles a year, a recent trip to the Democratic Republic of Congo holds a special place in her heart.
Rubio and Away partner with Peace Direct, a nonprofit working to support local people who live in conflict zones like Congo. Twenty years of conflict and a civil war have killed 5.4 million in the country, and many communities continue to be plagued by violence. In a phone interview, Rubio shared her memory of how the Democratic Republic of Congo transformed her view of travel.
"I went to the Democratic Republic of Congo in July 2016 with Peace Direct. Since we started Away, we've been donating a portion of our sales and our teams' times and experience to them."
"Honestly, it was a really intense trip. There are no tourists. There were no commercial flights going to where we were going because of the conflict that's going on there, so we had to fly to Uganda and then we chartered a prop plane to take us over to Congo."
"It's a little jarring when you get [to Congo] and there are no civilian cars. Everyone is either Congolese and walking around on the road or there are white, armored vehicles from the U.N. All the cars are NGO vehicles with special permits, and they all had their charity logos on them. It was definitely the only place I've ever been with no tourists or civilian traffic where we were staying."
"It was definitely the only place I've ever been with no tourists or civilian traffic." — Jen Rubio
"We had a driver and a bodyguard to take us around. We had to stick in this one car and stick as close to the schedule as possible for safety. I think Congo itself is such a beautiful country. It's really rich in resources and the people are incredible, but it's been torn apart by conflict that's been going on there. We were in Beni in northeastern Congo, which is where there's still a lot of conflict going on."
"We were invited into the homes of a lot of natives, and even if they had been affected by the war, they were so hospitable and so welcoming. We were visiting them in huts with dirt floors with 10 to 20 people sleeping in each one. They were so looking forward to our visit that they had gathered fruits like mangos and bananas and gave them to us as gifts to welcome us. It was so touching because they obviously had nothing."
"The guide who was taking us around to all the different [NGO] partners was like, 'Do you guys like football?' Our hotel didn't have a TV so I thought he was going to set us up to watch it in our hotel. He ended up taking us to this pizza place called Ishango that was down the street from our hotel, with a courtyard filled with a mix of NGO workers and locals. Someone had set up a projector and was streaming the EuroCup and you could tell a lot of people were very homesick. That's something we ended up doing every night that trip."
"I'll never forget when Portugal won the EuroCup, everyone was cheering and celebrating. There were so many people there from all different countries who had left their homes behind to come to Congo to try and do some good in the world. [The football championship] really united all of them and allowed them to enjoy a night in an otherwise very scary place."
"We were able to kind of find some of the comforts of home in the most unexpected of places. You can literally be in the scariest, most dangerous places in the world and still find these moments where people are happy."