'Tekken 7' DLC: New characters, Tekken Bowl mode leaked in PC data mine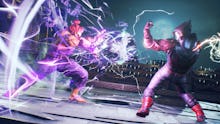 Tekken 7 is out now, with our review calling it an "extremely enjoyable fighter with plenty to offer fans." Thanks to some intrepid data-miners, it might have even more to offer in the near future, including some details on an upcoming character DLC release.
Tekken 7 DLC may include a new character and Tekken Bowl
According to Wccftech, someone data-mined the PC version of Tekken 7 and found code hinting at what might come in the game's upcoming DLC, which Bandai Namco has yet to fully reveal.
The most significant revelation is there are hooks in the game's code for two additional guest characters. We don't actually know who the characters might be, but the code suggests they'll have special meters like Akuma and Eliza. Based on that alone, you could speculate at least one of them is another Street Fighter guest, but nothing is certain on that front.
Besides that, the data apparently hints at the return of Tekken Bowl mode. It's basically bowling, except the pins look like Heihachi. Here's what it looks like:
Sure, I don't see why they shouldn't bring Tekken Bowl back. Tekken 7 is currently lacking any kind of goofy side modes outside of the standard single and multiplayer features, so that would be a welcome addition. Of course, there is no information on when that might happen or how much it might cost when it comes out.
More video game news and coverage
Check out more video game content on Mic, including which Pokémon are actually the best and why black players can never seem to get custom characters that look like them. Learn more about how blind gamers are getting in on the fun and why Injustice 2 is nerfing its female characters. See why we love Twintelle (and why we hate Twintelle) in the upcoming Arms, and don't miss our guide to dodging blue shells in the Mario Kart 8 Deluxe — you can thank us later.