How long will the WWDC 2017 keynote address last? Start time for the June Apple event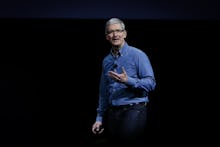 MacBooks, iPads and iOS, oh my: Apple's WWDC 2017 keynote address starts Monday, June 5, at 1 p.m. Eastern, so get ready for some major announcements and Apple news. Here are answers to most of the internet's biggest questions about the livestream, including how to watch it, how long it'll last, what's new in iOS 11 and what's going on with the MacBook Air.
How to watch the Apple livestream: Open your Safari browser and head to apple.com/apple-events/june-2017. It won't work on Chrome!
How long will WWDC 2017 last? "Over two hours," according to a BBC journalist attending — or from 1 p.m. to 3 p.m. Eastern.
The WWDC 2016 keynote address, which unveiled iOS 10, was 123 minutes. The WWDC 2015 livestream lasted even longer: two hours and 20 minutes.
If you care about gender equality in tech, we'll also be tracking how much speaking time women get at the traditionally male-dominated event.
What to expect: The tech giant is expected to unveil updates to the high-end MacBook Pro laptop line; iPad Pro, the top-tier iPad; iOS 11, the new operating system for the iPhone and iPad; and macOS 10.13, the desktop operating system.
We know very little about iOS 11. But a leaked image of a new app called Files suggests we might also see new software for file management — fun stuff!
What will the new products look like? We don't anticipate big design changes to the hardware. The new laptops will likely get a speed upgrade and higher RAM capacity. New iPads are predicted to have narrower bezels, which means more screen space.
Will there be a smart speaker? There's also some buzz around a Siri-enabled smart speaker, which would be a good move for Apple. CEO Tim Cook surely wants to compete with the Amazon Echo and Google Home in the popular home assistant product line. "Expect an Amazon Echo competitor with a focus on music quality and device integration to distinguish it from its rivals," Alex Hern wrote at the Guardian.
What about new MacBook Airs? Who knows. It's possible Apple will upgrade its processor, which would be nice — the Air is still the most affordable option for laptop buyers, but it's been neglected as Apple pushes its sleek new MacBook with the annoying, flat keyboard, and the new MacBook Pro with the Touch Bar that very few people seem to be using.
Stay tuned — we'll have a lot more Apple coverage coming up.