'GTA Online' Gunrunning Update Release Date: Bunkers, mobile ops centers and more on the way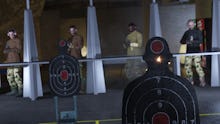 In spite of a consistent stream of support for GTA Online, ranging from period free vehicles to new game modes, fans are hungry for the game's perennially emerging Gunrunning update, which promises the ability to wage turf warfare.
Although it still hasn't gotten an official release date, Rockstar has released some tantalizing details about what players can expect from the update when it drops.
GTA Online gunrunning update: Prepare for bunkers, mobile operations centers and heavy duty weaponry
According to a Rockstar Newswire post, both CEOs and Motorcycle Club Presidents will be able to participate in the new Gunrunning update when it drops. Your journey into arms dealership will start in your own bunker, which will presumably act as the hub for all your gunrunning-related missions.
You'll gain access to a Mobile Operations Center, which is a modular, mobile command center that you can use as a vehicle and weapon workshop, luxury living quarters and command center. You'll even be able to customize your weapons, weaponized vehicles and add turrets to the MOC itself for added protection.
Weaponized vehicles — an entirely new vehicle class that the update will introduce — will come in all shapes and sizes. Rockstar promises that you will have everything from an Amphibious APC to an "anti-aircraft trailer" you can use to blast enemy pilots out of the sky.
Finally, you'll be able to recruit a team of scientists to research upgrades for your gear and cars, such as personal weapon upgrades and upgrades for the MOC and weaponized vehicles.
Unfortunately there's still no release date set for the anticipated update yet, but Rockstar has released a number of new screenshots, if all this information still isn't enough. Hopefully it won't be too long before you can pilot your own giant death semi-truck.
More GTA Online tips and tricks
Check out Mic's GTA Online guides on how to buy Shark Cards, get rich without buying Shark Cards, run an auto theft ring, buy and sell property, increase your strength stat, treat yourself to plastic surgery and how to kill the Insurgent, one of the most powerful vehicles in GTA Online.