'Overwatch' Sale End Date and Time: There's still time to get the game for cheap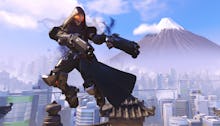 If you've been wondering whether to jump on board the Overwatch train, you need to make that decision very soon — and no, it's not because the anniversary event is entering its final week.
Right now, Blizzard's running a sale on every edition of Overwatch through June 5— so pay up now, or else risk spending a whole lot more money down the line.
Here's what you need to know.
Overwatch sale end: Full price breakdown
The sale on Overwatch — which concludes June 6 at 2:59 a.m. Eastern — includes every platform on which the game is available: PlayStation 4, Xbox One and PC.
On PC, you can choose from two different versions: the standard edition and the game of the year edition. The latter costs $10 more, but it includes some extra in-game goodies and a set of 10 loot boxes filled with a random assortment of cosmetic items. On PS4 and Xbox One, it seems that the game of the year edition has replaced the "origins" edition as the only one available.
Here's the sale price breakdown for each edition, organized by platform:
• PC: Overwatch Standard Edition — $29.99
• PC: Overwatch Game of the Year Edition — $39.99
• PS4: Overwatch Game of the Year Edition — $38.99 with PlayStation Plus
• Xbox One: Overwatch Game of the Year Edition — $38.99
Once the sale ends, the standard edition will go up to its regular price of $39.99 and the game of the year edition will cost $59.99.
More Overwatch news and updates
For more on Overwatch, check out the rest of what Mic has to offer. Here is an essay about how Efi Oladele was a missed opportunity for Overwatch, a deep dive into the issue of sexual harassment in Overwatch voice chat, an unintentionally hilarious infographic showing the most popular Overwatch characters in each state, a criticism of Blizzard's failures in its design of Symmetra and a dive into a cool trend on Tumblr that converts your most-played heroes into a psychedelic illustration.