As president, Trump has met with 122 execs whose companies have been fined $90B for breaking the law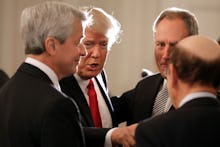 The president was elected on a platform that promised to "drain the swamp." A new report offers yet another data point showing Donald Trump is not sticking to that campaign promise.
Since taking office, Trump has met with more than 270 executives, 122 of them from corporations that paid a combined nearly $90 billion in fines to the federal government since 2010, according to analysis by Washington watchdog group Public Citizen.
The analysis shows Trump is meeting with some of the leading CEOs in the United States, including Jamie Dimon, chairman and CEO of JPMorgan Chase, accounts for more than $28 billion of the fines. Leaders of other large banks, including Citigroup and HSBC, that were fined for legal and regulatory violations during the financial crisis have also met with the president.
Former Goldman Sachs bankers are among Trump's top aides, including Treasury Secretary Steven Mnuchin, National Economic Council director Gary Cohn and chief strategist Steve Bannon. Goldman Sachs agreed last year to pay the Justice Department $5 billion to settle claims the bank misled investors about mortgages during the financial crisis.
The report comes amidst criticism of Trump's coziness with industries that have championed the regulatory rollbacks coming out of the Oval Office. The president has cut environmental regulations to aid the fossil fuel industry and delayed implementation of Obama-era financial regulations opposed by big banks.
Trump has also granted ethics waivers to members of his senior staff, despite his own executive order designed to bar federal employees from doing deals with companies with which they associated with before joining the government.