How Disney GayDays quietly became a massive Pride event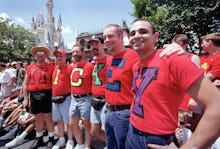 In 1991, a group of queer friends decided to organize an unofficial "gay and lesbian day" at Walt Disney World, a day for a small gathering of the local LGBTQ community to come and visit the theme park together.
They picked a Saturday in June because it was one of the slowest days of the year, one current GaysDays official said. Now, more than 20 years later, the event has ballooned into a multi-day, massive Pride-month celebration with nearly 200,000 attendees and multiple locations. Organizers say it's only going to keep getting bigger.
The history of GayDays
Now, GayDays is so big that it's impossible to ignore — but attendees at the very first Disney meet-up in 1991 took measures to not be immediately identified as LGBTQ by the crowd. They decided to all dress in red, "not rainbow" because "they wanted to blend in and not necessarily offend anybody," Steve Erics, GayDays creative director, explained in a phone call on Friday, adding "not everybody was openly gay."
The red shirts stuck around, but GayDays began to grow and grow, becoming a regular, unmissable event at the theme park. It attracted rancor from conservatives — in 1998, televangelist Pat Robertson warned that Walt Disney World would be punished with hurricanes for allowing GayDays to take place. But for some participants, it was seeing the days in action that made them sure it was something special.
Drag performer Coco Montrese, who appeared in the competition reality show RuPaul's Drag Race, first noticed Disney GayDays long before she was famous — she saw the events firsthand during the 11 years she worked at Disney World as an entertainer, performing in parades and shows.
"It was one of the best times, especially for the entertainers because we felt safe, we felt secure, we felt happy," Montrese said in an interview Monday. "That was probably part of why I wanted to become a part of GayDays."
Montrese has been a part of the celebration for more than ten years now, and she clears her schedule to make sure she can appear at GayDays every year, now as one of the celebrity faces of the event. "Being involved in GayDays is the best thing ever," she said. "It's just a family."
A chosen family
GayDays, which began as a single visit to Disney World's Magic Kingdom, is now a massive, weekend-long event, featuring organized visits to every part of Disney World as well as pageants, pool parties, competitions and visits to other area theme parks. There are Disney World meet-ups for families and singles. According to Erics, this year a total of 193,000 attendees came to the event, making it the biggest year ever.
But, he said, it still feels like a family gathering. "A good 75% of our guests are returning guests," he said. "If you've never been to GayDays, it's one of those tough things to explain … It makes the hair on the back of my neck stand up ... to see a 70-year-old in drag makeup walk through [the] Magic Kingdom, it shows they feel comfortable being who they are."
That sense of community has become even more important after last year's deadly massacre at Pulse, a gay nightclub in Orlando.
"GayDays lost five people from the Pulse tragedy," Erics said. "Those are our family members." Erics said there are heightened security concerns this year, but added, "We're not going to live in fear."
What does Walt Disney World think?
Even though the days have become a longstanding tradition, GayDays is still unofficial, and not formally associated with Disney World. But the event has been credited with helping to push Disney to better acknowledge LGBTQ fans and employees.
While the event has expanded far beyond just Disney World visits, Erics says Disney is "absolutely" the main draw for the celebration. "Everybody identifies GayDays as Disney," he said. And he's hopeful that the company will eventually become an official supporter of GayDays.
In the meantime, Erics says, the celebration will continue to grow. "This is the largest year, every year we break those numbers and we're honored to do that," he said. And, he said, fostering a sense of family among the LGBTQ community is, and always has been, one of the most important parts of GayDays.
"It's just really awesome to see that sense of family, because sometimes our own families kick us out the door so we have to make [new] families," he said. "That's what our community is known for."
Walt Disney World has not yet responded to a request for comment. We will update this story when they do.