The indie food and travel magazines you need to know about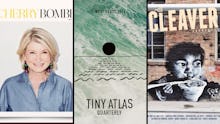 Mainstream magazines are great and all, but when it comes to vacation reading, why not treat yourself to something a little more under-the-radar? Gorgeously illustrated, photographed and assembled independent magazines are not only a special vacation-worthy treat for your eyes, but will leave you informed about new people, places, dishes and cultures beyond wherever you are. Don't worry about catching up on the latest issue — some back issues of these pubs are just as good (or better, depending on your interests) than the current editions on newsstands, so keep an eye out for used copies.
Dedicated to exploring a city's tastes and flavors through the lens of industry icons, chefs and eating enthusiasts, Ambrosia is your literary guide to the gustatory pleasures of a specific region. The third volume, out now, is dedicated to Brooklyn, with previous editions focused on Denmark and Baja, Mexico. A two-issue subscription goes for $44.
This biannual magazine is dedicated to travel and style, illustrated in pastel hues to instill a sense of calm. The photo-heavy magazine is pleasing to the three-cocktails-in eye, and you can save some of the back-of-book magazines for your flight home. Specific city guides, in print and online, of destinations like Paris, Antwerp and beyond also offer a more curated, artist's look at popular cities to visit. An annual subscription costs 22 pounds (about $28.50).
A food publication made by women (founders Kerry Diamond and Claudia Wu lead the pack) and some non-women focuses on the female personalities, icons and leaders who make up the food industry and determine today's food culture. This celebration of females and food extends beyond the pages of the quarterly publication to a radio show and annual convention, Jubilee. A one-year subscription costs $38.
This eccentric magazine dedicated to covering all things Chinese food — from musicians who rap about dumplings (seriously) to Beijing street tacos to the evolution of Chinese cuisine and its interpretations around the world. Writers are encouraged to write "unusual" and "unconventional" stories for this gorgeously illustrated publication that will most likely have you booking it to the nearest Chinese restaurant once you're a few pages in. One issue goes for $17.
Every issue of Drift provides an in-depth look at a specific city, be it Melbourne, Tokyo, Stockholm or Havana. Whether you're planning a trip to any of these cities and want some itinerary suggestions or just want to escape into the artistically photographed and laid-out (think coffee-table book) pages of whatever city you're reading about, Drift provides the ultimate paper outlet for your wanderlust. A two-issue subscription goes for $52.
You might experience a visceral reaction to the gorgeous food photography in Gather Journal: Every issue is ripe with images good enough to eat, which works, since the publication is devoted to sharing original recipes. The pages of every magazine are thread together by one overarching theme, — Summer 2017's is Heroines: The Women and Art Issue — which creates a thought-provoking narrative you wouldn't get from searching recipes on Pinterest. Bury your head in a few of these timeless stories and you'll come out thinking about food and storytelling in a whole new way. A single issue goes for $19.99.
Both nostalgic like an old cookbook you found pushed back on your grandparents' shelf and subversive like that cool, hard-to-find art journal you pretended to be obsessed with in college, this U.K.-based food and culture journal hits all the right notes. Original photo essays, profiles, personal stories and more make up the timeless content in the biannual pages of this keepsake publication. An annual subscription costs 30 pounds (about $38).
Now publishing its second volume, this sophisticated, donation-funded journal tells stories of invested explorers and adventurers. The first issue is completely dedicated to India and donates all proceeds to Freeset, which helps women who are trapped in the sex trade in India. The second edition, themed on leaving and coming back home, tells stories from all over the world, and beyond (think outer space). Issues range from $18 - $24.
This quarterly collection of food, drink, cooking, making and growing stories from around the globe — culinary storytelling, as Life & Thyme calls it — brings you into the kitchens and creative spaces of food lovers and innovators from multiple backgrounds, taking you everywhere from Shake Shack to the streets of Sri Lanka. Get one issue for $18.
A deep look into whichever place or topic the issue's theme is dedicated to — June 2017 is about getting from point A to B — this U.K.-based monthly publication dives deep with insightful perspectives on everything from how politics and the economy influence a destination's tourism experience to inspiration for your next itinerary. If you're looking for some cerebral material, this high-brow magazine (think New Yorker) is for you. An annual subscription will set you back 100 pounds (about $126).
An independent journal dedicated to making this massive, sometimes overwhelming world we live in feel a little more personal, Tiny Atlas explores regions and topics, from the West Coast to an issue dedicated to the elements (fire, water, air). Stories gorgeously illustrate corners of the earth you may never visit (or, more likely, find yourself Googling the next flight to) and intimately introduce you to the people who live, visit and make these places what they are. You can purchase an issue at your local bookstore, where prices may vary.