Le Bon Marché, one of the first department stores, is finally going digital — with a luxury twist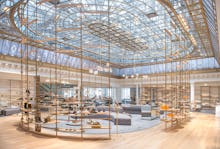 Sure, you may be able to scour the internet for Dolce & Gabbana's $51,000 3-D floral jacket (worn by Melania Trump) or Gucci's $26,000 velvet-trimmed embellished tiered silk-chiffon gown (worn, in replica form, by Blue Ivy Carter), all with a few determined clicks.
And perhaps that's all there is to it for a certain kind of consumer. But a key element of the luxury shopping experience is missing: that moment you glimpse your desired garment across the room, slowly approach it with one last sip of Krug Clos du Mesnil Blanc de Blancs and get your first grip on the ornate embroidery or the beaded embellishments of your new luxury must-have.
It's an experience as dutifully designed as it is fantastical. Le Bon Marché, one of the world's first department stores, is hoping to recreate just this experience when its new digital offshoot, 24 Sèvres — named for the Paris street address of the store — launches Tuesday.
"It's hard to point to a moment in time," LVMH chief digital officer Ian Rogers said in an interview, when asked about the conception. "LVMH have been investing in the digital space consistently for years, but the commitment to create a new multi-brand retailer was made about two years ago."
The new digital store will be home to more than 150 luxury brands — including Louis Vuitton, Christian Dior, Chloé, Givenchy, Loewe, Marni and Ferragamo — across women's fashion, accessories and beauty. Additionally, they will offer a team of Parisian fashion experts available for on-the-spot, video styling consultations.
One of the key considerations in bringing 24 Sèvres to life was adapting the shopping experience for the digital space while preserving the store's 160-year heritage.
"To this end, we've leveraged the strongest asset a physical store has — its windows — and have reimagined innovative digital windows, which will bring our homepage to life every month," 24 Sèvres' CEO Eric Goguey said in an interview.
Those digital windows, developed with guidance from Louis Vuitton window display mastermind Faye Mcleod, will be disrupted by visually impactful "breathing spaces," created as a way to break up the monotony of scrolling through product listings.
"In Le Bon Marché, product displays are interspersed with 'disruptive spaces' like floral arrangements, design furniture or a coffee bar, and this is a key feature of the store we wished to bring to 24 Sèvres," Goguey explained.
Another key feature: the explore section. "As someone who loves the intersection of art and technology, not only is it beautiful, but I love the simplicity with which the creative and editorial team can curate selections for customers, who can then regroup and filter product to suit their tastes and moods," Rogers said.
There's also a deeply thought-out unboxing experience, designed in stark contrast to what has become the sad, common reality of ripping open a package to find air-filled plastic tossed atop your sadly wrinkled garment.
"Our unboxing experience was designed to surprise our customers and ensure the 24 Sèvres experience is special through to the last detail," Goguey said. "We developed our unboxing experience with true artisans, who were briefed to 'bring happiness to the customer.' It's like receiving a breath of Parisian air straight to your doorstep."
Though nothing will ever be able to match the in-store experience, 24 Sèvres seeks to bring together the most highly respected fashion and beauty names at one online address, creating a shopping experience that infuses digital shopping with enough luxury bells and one-of-a-kind whistles to make the experience as noteworthy as the purchase.