Even Marvel actors love Gal Gadot in DC's new 'Wonder Woman'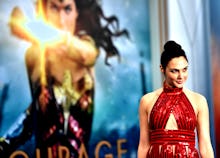 Wonder Woman owned the box office and was showered with glowing reviews from critics, but that's not all it got.
After grossing an incredible $100 million in its opening weekend, all of Hollywood came out to celebrate the film, Gal Gadot and director Patty Jenkins. Basically, everyone is in love with the movie, including some other familiar heroes.
There appears to be no bad blood between the Marvel Cinematic Universe and the DC Universe. Everyone from Joss Whedon to Krysten Ritter gave the movie a lot of love on Twitter.
The Avengers director Joss Whedon tweeted out his praise for the movie, calling it a "goddamn delight."
Mark Ruffalo, who reprises his role as the Hulk in the upcoming Thor: Ragnarok, shared his joy over the film's very successful opening weekend.
Krysten Ritter, who stars as the title character in Marvel's Jessica Jones series for Netflix, also tweeted out her excitement over the movie:
Guardians of the Galaxy director James Gunn congratulated Patty Jenkins on her film's massive weekend box office.
Even more love came her way when Doctor Strange director Scott Derrickson showed off Wonder Woman's mighty accomplishments:
Outside of the Marvel universe, the rest of Hollywood really loved it too. Everyone from Ava DuVernay to Jessica Chastain were soaring for Wonder Woman.
Mic has ongoing movie coverage. Please follow our main movie hub here.