Somali single mother in Ohio severely beaten by white man in alleged hate crime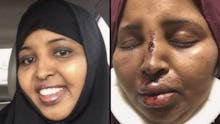 The Council of American Islamic Relations' Columbus, Ohio, chapter is calling on law enforcement to investigate the severe beating of a Muslim Somali woman by a white man on Saturday as a hate crime.
Rahma Warsame, the victim, said the man started beating her after she defended another Muslim woman he was harassing with racial epithets.
"You all will be shipped back to Africa," the man said, according to Warsame.
Warsame said local police interviewed the assailant but released him without any charges. He has also reportedly made several racist remarks to neighbors in the past.
"The fact that the perpetrator was not taken into custody and was not charged raises serious concerns and sends a very dangerous message," Jennifer Nimer, executive director of CAIR-Columbus and one of the attorneys for the victim, told Carbonated.TV.
"After what happened last week in Portland, police across the country should be sending a strong message that hate crimes will not be tolerated," Nimer said. "We are asking law enforcement to investigate this as a hate crime and to bring the perpetrator to justice immediately before he commits another act of violence."
The Columbus Police Department is now investigating the assault. A police spokesman said the assailant was released without charges because it appears that both sides were involved in the incident on Saturday. According to CPD, the assailant and his partner also filed a menacing report against the Somali community in their neighborhood.
"There wasn't enough evidence anyone needed to be charged," the spokesman said.
The attack left Warsame with four missing teeth and swollen face, lips, nose and several facial fractures. She is being treated at Riverside Hospital in Columbus, where she is currently employed.
Warsame is a single mother raising a 12-year-old boy. A crowdfunding campaign has been launched to help raise funds for her medical expenses. The campaign, created by Palestinian-American activist Linda Sarsour, has raised over $80,000 toward their $100,000 goal since Sunday.