Amazon E3 Sale: Check out the best gaming deals online right now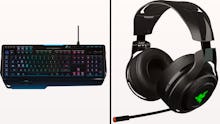 E3 is one of the best and worst times of year for a gaming fan. It can either be fun — like 2016, if you were into Zelda — or it can be extremely disappointing.
One way to ensure you have a good time during E3 is to fill up your peripheral and accessory wish list, and then put it directly into your shopping cart. Nothing can turn a bad week around like some good retail therapy. Luckily, it seems Amazon agrees.
Amazon E3 Sale: Best gaming accessories you can buy at a discount
From now until June 17, Amazon has 20% off select gaming items. This includes things like gaming  mice, keyboards and headsets. 
Amazon also has more technical items like Wi-Fi extenders or routers. Just follow these steps to get your 20% discount:
Add one qualifying product to your shopping cart via the "Add to Shopping Cart" button on the product information page.Add the promotion code "20OFFE3" at checkout.
More gaming news and updates
Check out more video game content on Mic, including which Pokémon are actually the best and why black players can never seem to get custom characters that look like them. Learn more about how blind gamers are getting in on the fun and how Injustice 2 seems to give its female characters the short end of the stick. See why we love Twintelle (and why we hate Twintelle) in the upcoming Arms, and don't miss our guide to dodging blue shells in the Mario Kart 8 Deluxe — you can thank us later.