Convicted rapists in Colorado can now be billed for victims' rape kits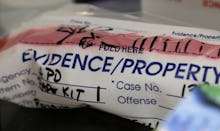 Rapists in Colorado might have to pay for their victims' medical exams, following a Monday decision by the state's Supreme Court, Reuters reported.
According to the Denver Post, the Court considered complaints from two sex offenders, Adam Michael Teague and Bobby Nicky Rogers, who were charged $707.27 and $500, respectively, for victims' forensic examinations, known as rape kits. A district judge previously ruled that Rogers, who was convicted of raping a woman at knifepoint, was not responsible for the exam costs, because exams are used to gather forensic evidence that helps law enforcement build their case.
The Colorado Supreme Court reversed that ruling, explaining that the Sexual Assault Nurse Examiners who administer the exams contribute to forensic evidence, but also provide crucial "patient-centered" medical care in the wake of a crime. Rape kits are therefore "extraordinary" to a criminal investigation, and can be billed to convicted perpetrators.
"As both a medical and investigative response to a sexual offense, a SANE exam necessarily performs dual roles," the court found. "It functions not only as a valuable tool for collecting sexual assault evidence, but also as a patient-centered medical procedure that is sensitive to victims' treatment needs, conducted by medical personnel, and limited to the scope of victims' informed consent."
The tab for a rape kit isn't small. One recent study found that victims are often left with a staggering tab — nearly $950 on average. While states are required to pay for forensic exams, some sexual assault survivors are reportedly still charged for them.
And that's just the tip of the iceberg in terms of the costs associated with sexual assault. Most people who've been raped or sexually assaulted require a number of medical services — like pain medication, pregnancy tests, emergency contraception, HIV post-exposure prophylaxis, mental health treatment, follow-up visits to the doctor's office — that rape kits don't cover.